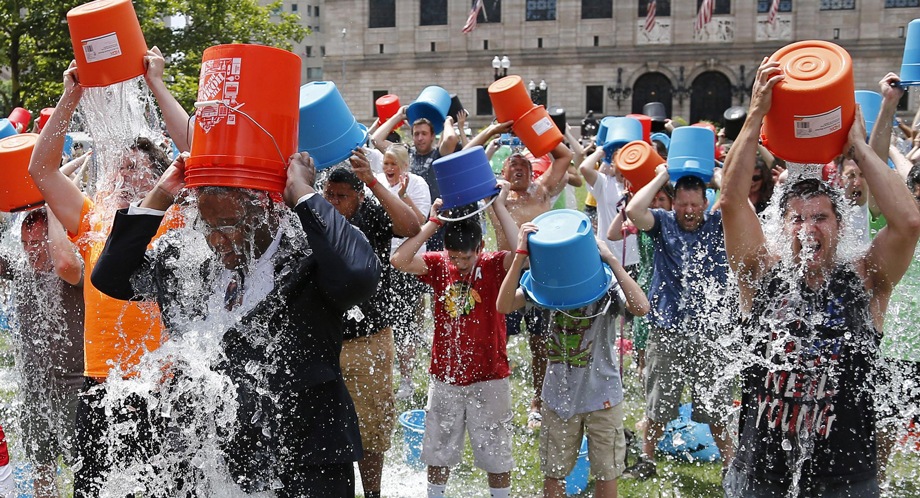 ALS could be stopped, thanks to the #icebucketchallenge
SOURCE: WASHINGTONPOST – Just one year ago, Facebook feeds were awash with videos and photos of people pouring buckets of cold water on their heads all in the name of medical research.
At the time, the Ice Bucket Challenge had become the viral campaign everyone was talking about — an online effort to raise awareness and funds for amyotrophic lateral sclerosis, better known as ALS or Lou Gehrig's disease. The movement attracted criticism of social media "slacktivism" — a convenient way for people to act like they're making a difference without achieving anything at all.

But one year and more than $220 million in donations later, scientists at Johns Hopkins are claiming a major breakthrough in ALS research and are partly crediting the success to the massive influx of public interest. "Without it, we wouldn't have been able to come out with the studies as quickly as we did," said Philip Wong, a professor at Johns Hopkins who led the research team. "The funding from the ice bucket is just a component of the whole — in part, it facilitated our effort."
Wong and his team have been studying ALS for about a decade, but as Jonathan Ling, another researcher at Johns Hopkins, said in an "Ask Me Anything" thread on Reddit, the millions of dollars brought into the field has given researchers the financial stability to pursue "high risk, high reward" experiments.
"The money came at a critical time when we needed it," Wong said.