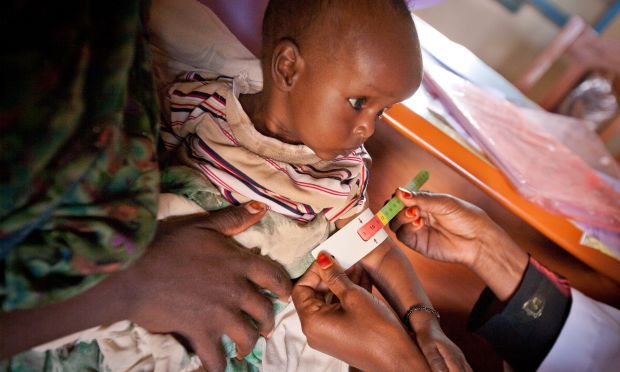 An estimated 14,000 children suffering from severe acute malnutrition
The increase in the number of children who will be identified as suffering from severe acute malnutrition (SAM) under the new WHO standards means that organizations involved face a shortfall of nutrition supplies in 2015.
The horrors of smuggling and trafficking of people on boats through the Bay of Bengal and the Andaman Sea caught the world's attention in May following media reports uncovering mass graves in Thailand and later on also in Malaysia.
Thousands of people were believed to be stranded at sea in early May, after a crackdown by the authorities in Thailand and other countries in the region on trafficking gangs resulted in several boats being deserted by their crews.
On 22 May, a boat with 208 men and adolescent boys, as well as 20 crew members, was rescued by the Myanmar Navy off the coast of Rakhine State. On 29 May, another boat was rescued off the coast of Ayeyarwady Region, with 733 people, including over 100 women and children, onboard after it had been abandoned by its crew.
Government and humanitarian organizations provide assistance
People rescued from the boats were taken to two reception centres north of Maungdaw. At the sites, they received food, water, clothes, medical attention, psychosocial support and other basic assistance from local authorities, as well as from UN agencies, the International Organization for Migration (IOM) and INGOs. Many people said that they had been at sea for more than three months by the time they were rescued.
From 22 to 24 May, a high-level UN delegation, including the UN Secretary General's Special Advisor on Myanmar, visited Rakhine State. They met with the Chief Minister and other representatives from the Rakhine State Government, and visited the recently disembarked people from the first boat.
Eight people on the first boat and187 survivors on the second boat originated from Rakhine State, according to the Rakhine State Immigration and National Registration Department. As of 30 June, efforts were still being deployed by the Myanmar authorities to facilitate repatriation to Bangladesh, in close coordination with the Bangladeshi authorities, and to facilitate returns to places of origin in Rakhine State.
Those rescued from these two boats were part of a total of over 140,000 people estimated to have left from Bangladesh and Rakhine State through the Bay of Bengal since 2012, according to UNHCR's Regional Maritime Movements Monitoring Unit in Bangkok.
People, including a growing number of women and children, are typically transported by smugglers on boats that often pass through Thailand, heading for countries that include Malaysia and Indonesia. They are vulnerable to trafficking and abuse, and are often beaten and held for ransom until a fee is paid by their families for their release, according to interviews with survivors.
On 29 May, the Royal Thai Government organized a Special Meeting on Irregular Migration in the Indian Ocean in Bangkok. The meeting was the first regional meeting aimed at collectively addressing the issue of irregular migration and was attended by high-level representatives from 17 countries in the region, including Myanmar, as well as UNHCR, the UN Office on Drugs and Crime and IOM.
The meeting concluded with a series of recommendations, including on search and rescue, safe disembarkation, antitrafficking, arrival reception and root causes, while stressing the need of collective efforts among related countries.
HIGHLIGHTS
Over 900 boat people rescued off the coast of Myanmar during May
New government-led initiative to improve living conditions for IDPs in Rakhine
Floods in Rakhine State
Access to education expanded in Rakhine but major gaps remain, especially for adolescents
More young children in Rakhine will need treatment for severe acute malnutrition
Four years on, major humanitarian needs remain for 100,000 IDPs in Kachin and northern Shan states
37% of 2015 humanitarian funding needs met so far
Bulletin_Humanitarian_OCHA_May-Jun2015