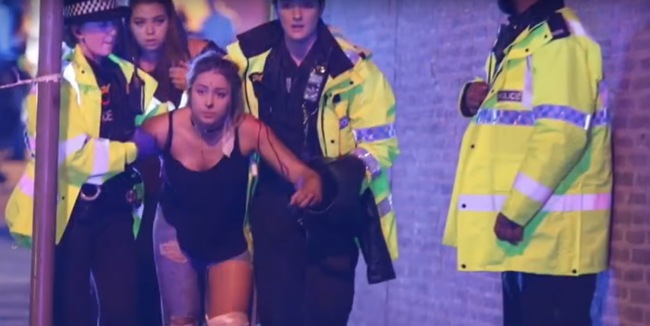 Children have died in Manchester after a suicide attack – Official Police Statement
The death toll has risen to 22, among them there are children and women. 59 people are injured and receiving treatment in eight hospitals across Greater Manchester, an official statement said.
Police believe the attack was carried out by one man, and are investigating if he was part of a wider network. The attacker died at the scene after the blast.
MANCHESTER – A suicide attack have been realized in Manchester yesterday, at the end of the concert by the pop star Ariana Grande. Here below the official statement of the Manchester Police. Chief constable Ian Hopkins confirms that 22 people have died and a further 59 have been injured. This has been the most horrific incident we have had to face in Greater Manchester and one that we all hoped we would never see.
Families and many young people were out to enjoy a concert at the Manchester Arena and have lost their lives. Our thoughts are with those 22 victims that we now know have died, the 59 people who have been injured and their loved ones. We continue to do all we can to support them. They are being treated at eight hospitals across Greater Manchester.
This is a fast-moving investigation and we have significant resources deployed to both the investigation and the visible patrols that people will see across Greater Manchester as they wake up to news of the events last night. This will include armed officers as people would expect. More than 400 officers have been involved in the operation during the night.
To remind you, we were called at 10.33pm to reports of an explosion at the Manchester Arena at the conclusion of an Ariana Grande concert. More than 250 calls came in and emergency services were very quickly on scene. Emergency numbers have been established for anyone who is concerned for loved ones who may not have returned home: 0161 856 9400 or 0161 856 9900.
We have been treating this as a terrorist incident and we believe that while the attack last night was conducted by one man, the priority is to establish whether he was acting alone or as part of a network.
The attacker, I can confirm, died at the arena. We believe the attacker was carrying an improvised explosive device, which he detonated, causing this atrocity.
We would ask people not to speculate on his details or to share names. There is a complex and wide-ranging investigation under way.
Our priority is to work with the national counter-terrorist policing network and UK intelligence services to establish more details about the individual who carried out this attack.
If you look towards the left you see the explosion and hear the bang. I hope to GOD everyone is ok, and so glad Jess and Em are. #manchester pic.twitter.com/q81KHGEJ6E

— Joe Gregory (@JoeAaronGregory) 22 maggio 2017