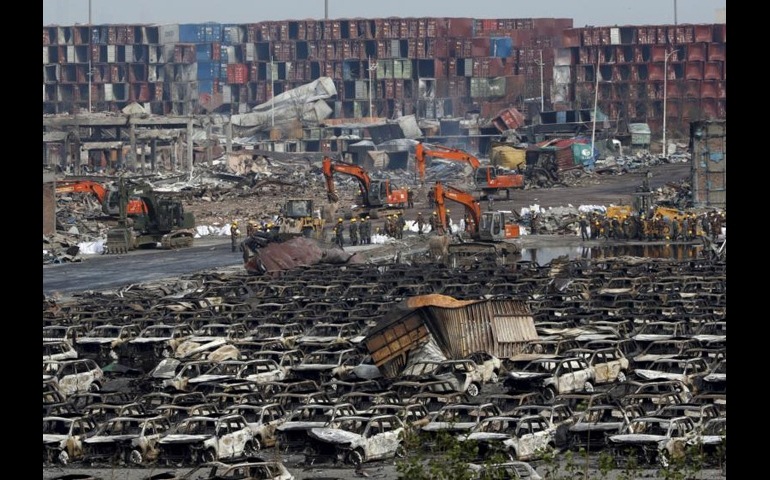 China - Police arrest 12 suspects in the Tianjin explosions
(REUTERS) SHANGHAI, Aug 27 – Chinese police have arrested 12 people suspected of involvement in the Tianjin massive explosions that killed 139 people. The news is reported by the national Xinhua news agency on Thursday. Among the suspects there were all the businessman of the logistic company that had been storing the chemicals that blew up. Police and the news agency didn't say who are the rest of the arrested people.  The news comes a day after China sacked the head of its work safety regulator for suspected corruption.
The 2015 Tianjin explosions were a series of explosions that occurred at a container storage station at the Port of Tianjin starting on Wednesday, 12 August 2015. The first two explosions occurred within 30 seconds of each other at the facility, which is located in the Binhai New Area of Tianjin, China.[3][4] Over one hundred people were killed and hundreds of others were injured. The cause of the explosions was not immediately known, but initial reports pointed to an industrial accident.Fires caused by the initial explosions continued to burn uncontrolled throughout the weekend, repeatedly causing secondary explosions. Eight additional explosions occurred on Saturday, 15 August.
Read more: http://www.dailymail.co.uk/wires/reuters/article-3212283/Chinese-police-arrest-12-suspects-Tianjin-blasts–Xinhua.html#ixzz3jzxO8rGI
Follow us: @MailOnline on Twitter | DailyMail on Facebook