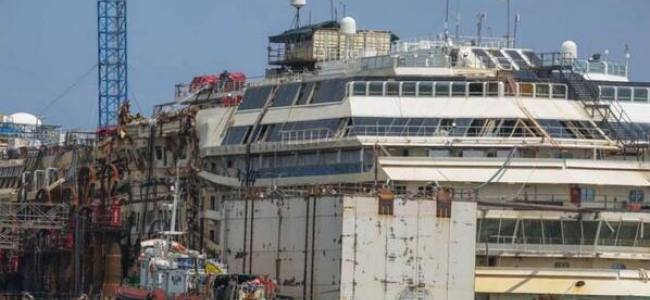 Costa Concordia Re-floating: LIVE TWEET
The Concordia refloating operations have started regularly. At 6 am the Senior Salvage Master, Nick Sloane, reached the Remote Operations Center located on the Concordia with the rest of the team. With the arrival of the ferry at 8.30 am the final phase of the lightening of the wreck has begun. Only less then 1,000 tonnes of weight remain, out of the initial 30,000 tonnes; as soon as this step is completed, the wreck can be lifted off the platforms. In a first stage, this will happen in the stern area.
The hull is resting on the false bottom at a depth of about 30 m. A pneumatic system will be used to empty the water gradually from the caissons on both sides of the wreck, giving the sufficient shove to push it upwards. On completion of the emptying process, a section of about 18 m will remain submerged.
While it was reiterated that in such a unique, complex, dynamic and articulated technical and engineering project, it would be both misleading and unrealistic to fix a precise date for the conclusion of work, in part because it is reasonable to imagine that there may be suspensions of work due to bad weather and sea conditions or other unforeseeable situations, the latest timing based on the progress of work on the project envisages that the wreck will be removed by the summer of 2014.