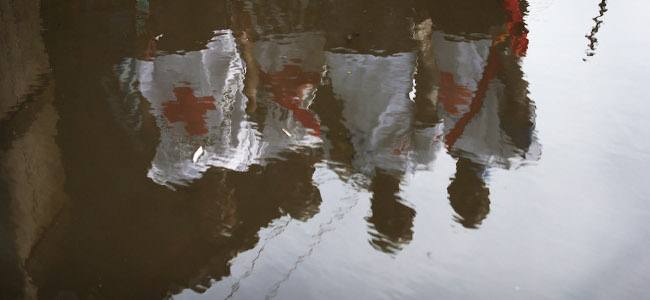 Ebola: Health workers continue to risk own lives to save others
(SOURCE: AMERICARES) – As the Ebola outbreak in West Africa intensifies and spreads, pushing the death toll over 1,000, AmeriCares is sending emergency medical aid to Sierra Leone and Liberia, including personal protective equipment for health workers at great risk in the battle to contain the deadly disease. The Ebola outbreak, now declared to be an international public health emergency by the World Health Organization, has already infected at least 170 health workers and killed 81, including doctors and nurses.
Confirmed cases and fatalities have been reported in Guinea, Sierra Leone, Liberia and Nigeria, and aid organizations in the field warn that official case and fatality figures may greatly underestimate the true scale of the outbreak.
AmeriCares has sent three shipments already, including an emergency air shipment which has arrived to restock hospitals and clinics in Liberia where President Ellen Johnson Sirleaf has made an urgent appeal for safety equipment for health workers. The air shipment contains 20,000 pairs of gloves, 20,000 surgical masks and 60,000 surgical caps, among other medical supplies. Shipments of intravenous fluids to rehydrate Ebola patients are also headed to Liberia and Sierra Leone.
Help us do more to stop this deadly outbreak – "With more than 2,000 people infected already and the virus spreading rapidly, there is virtually an endless demand for safety equipment," said AmeriCares Vice President of Emergency Response Garrett Ingoglia. "If we don't support the frontline health workers, there is no hope for controlling the epidemic."

In Sierra Leone and Liberia, where leaders have declared a state of emergency, health care providers report intravenous fluids are in short supply and have been extremely difficult to access with the increased demand. AmeriCares is sending enough intravenous fluids donated by Baxter International Inc. for approximately 3,000 patients in both countries.
The fragile health systems in the region are ill-equipped to handle a health crisis of this scale and the shortage of critical supplies and loss of skilled health workers continues to hamper the best efforts to contain the disease.
AmeriCares first response to the outbreak in May included the purchase and distribution of protective gear and medical supplies for health workers in Liberia as well as support for public messaging campaigns to spread awareness about the disease for which there is no cure.
Deadly Ebola Virus – Since the first outbreak in 1976, the Ebola virus has one of the highest fatality rates—up to 90%. The current outbreak has a 60% death rate. There is no vaccine and no licensed cure. Ebola is transmitted through direct contact with blood, body fluids and tissues of infected persons. Bodies can remain contagious for up to 60 days. Ebola has an incubation period of 2-12 days. Symptoms include fever, weakness, muscle pain, headache and sore throat. There are five strains of Ebola virus, three of which have been associated with large outbreaks of the virus in Africa.