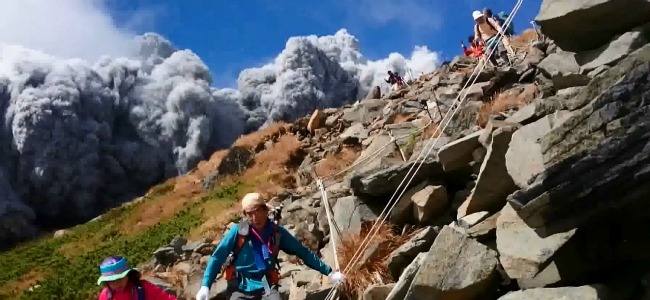 Eruption of Mount Ontake, 48 body recovered, LIVE NEWS
On Mount Ontake, the only warning hikers received on Saturday was a loud boom, "like thunder," minutes before a massive ashcloud overtook the mountain.
Firefighters and members of Japan's Self-Defense Forces conduct a rescue operation at an ash-covered cabin, center left, near the peak of Mount Ontake in central Japan, Sunday, Sept. 28, 2014. Mount Ontake erupted shortly before noon Saturday, spewing large white plumes of gas and ash high into the sky and blanketing the surrounding area in ash. Rescue workers on Sunday found more than 30 people unconscious and believed to be dead near the peak of an erupting volcano, a Japanese police official said. (AP Photo/Kyodo News)

With all of the technology in place to monitor volcanoes and earthquakes, especially in Japan, it's a fair question to ask: why was there no warning before the deadly eruption of Mount Ontake in Japan on Saturday?
Compare Mount Ontake's eruption to that of the recent lava show of Bardarbunga in Iceland. Seismometers in Iceland detected the potential movement of magma about two weeks in advance of the fissure eruption in the Holuhraun lava field, and officials were issuing warnings to surrounding residents well in advance.
But on Mount Ontake, the only warning hikers received on Saturday was a loud boom, "like thunder," minutes before a massive ashcloud overtook the mountain.
READMORE ON WASHINGTON POST