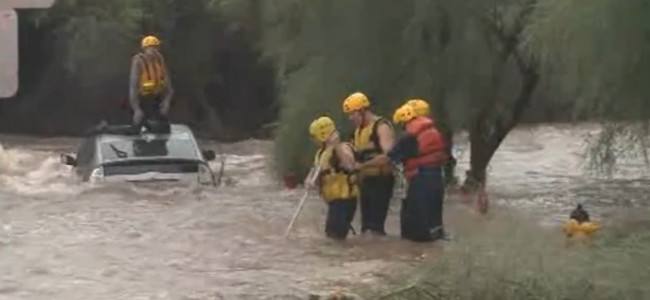 Firefighters rescue a driver trapped in a flooded wash
PHOENIX (Associated Press) – A driver was rescued in Phoenix after his car got trapped in a flooded wash on Monday. It happen in North Phoenix, at 7ht Avenue and Coral Gabled Drive, an area that usually floods when it rains.
Firefighters in Phoenix-area cities were dispatched on multiple calls for water rescues during Monday's flooding. Phoenix Fire Department Capt. Ruben Saavedra says firefighters in Phoenix and numerous other jurisdictions served by a joint dispatching system were sent on 18 calls for water rescues. However, Saavedra says he can't immediately confirm how many rescues were actually performed. He says that's because some stranded motorists leave their vehicles and make it to dry ground on their own. Saavedra says there were no reports of injuries.
In Phoenix, a state Department of Public Safety officer used the rooftop of his SUV to ferry three people to safety after their vehicles got stuck in high water on Interstate 10 at 43rd Avenue.