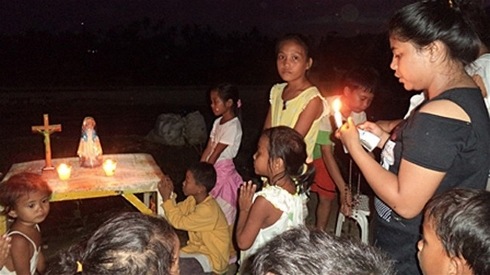 From Haiyan to Hagupit - what changed?
MANILA – On the second full day of operations responding to what entered the Philippines as Typhoon Hagupit – since downgraded to a tropical storm – national officials say disaster coordination has improved since last year's Super Typhoon Haiyan.
Tacloban, the city that bore the bulk of the estimated 6,000-plus fatalities 13 months ago, has reported no casualties thus far.
"We evacuated sooner this year. People need longer than one to two days to evacuate," Tacloban's mayor Alfred Romualdez told IRIN, admitting he broke rules to suspend classes before the storm had even entered the Philippine Area of Responsibility. "People need three to four days to evacuate. You cannot force evacuation. Before they can think about evacuating, they need to borrow money from their employer. Then it takes at least one day to return home to provinces."
"We evacuated sooner this year. People need longer than one to two days to evacuate." More than one million people were transferred to 3,640 evacuation centres, as reported by the National Disaster Risk Reduction and Management Council (NDRRMC) and the Department of Social Welfare and Development (DSWD) on 8 December. Eight of the country's 17 administration regions were affected.
In Tacloban, some 50,000 people were evacuated ahead of the storm, almost all of whom were already displaced from last year's Typhoon Haiyan. Romualdez estimated at most 6,000 newly displaced. Almost all have returned to their residences.
Rather than waiting until damage assessments were in to request additional military presence, Romualdez requested military reinforcements four days before the typhoon hit, allowing the city to prepare relief goods and "custom-fit" disaster risk reduction to Tacloban's needs, he said.
When the typhoon made landfall in the central Philippines on the evening of 6 December, hitting first the town of Dolores, on Eastern Samar (250km from Tacloban), its winds reached up to 195km/hour, causing heavy rains, flooding and landslides.
NDRRMC has confirmed two deaths from the disaster, while local media and the Philippine Red Cross are reporting 21 deaths, including 16 deaths by drowning as flood waters rose in Borongan, the main town in Eastern Samar.
Don't bypass national government

Assistant-Secretary Camilo Gudmalin, who oversees for DSWD the region of Western Visayas, parts of which were still emerging from last year's super typhoon when they were hit again in the latest calamity, said coordination between national and international responders has improved.
"[During last year's Typhoon Haiyan] humanitarian agencies used protocols for a level 3 emergency, which required sending headquarters staff to replace local staff. Those staff did not have the contacts or local knowledge of those they replaced. That was a major lesson. We suggested to humanitarian agencies, that whether it was a level 1, 2, or 3 emergency, that local members shouldn't be excluded. We applied this lesson to Ruby [local name for Hagupit]."
Noting that responder "cluster" coordination meetings were working well, he added: "We need [to continue] strengthening the cluster approach so as to not bypass the government. There's a need to involve the government in decision-making."
In a recent conference on disaster risk reduction hosted by the Philippine government, DSWD Secretary Corazón "Dinky" Solíman told participants: "One lesson I have gained from Haiyan is that while experiences and expertise can help, it will only be effective if it is practised with proper understanding, proper grasp of the context of the place. And so, the surge of compassion and desire to help expressed by foreign agencies must be balanced with an understanding of the situation and capacities of the country they will support."
"We cannot make a final determination yet [on coordination]", added Gudmalin, noting there are still joint assessments in the coming days to extend aid to unreached areas. "Our initial assessments are that we have not encountered any problems on coordination."
The Office of Civil Defence reported on 8 December that the preliminary cost of the damage, including production losses in crops and infrastructure, has reached nearly one billion Philippines pesos (US$22.4 million), involving some 56,000 hectares of farmland and an estimated production loss of 56,000 tons in the regions of Bicol, Western Visayas, and Eastern Visayas.
Last year's super typhoon destroyed three times as much cropland.
The typhoon was downgraded to a tropical storm on 8 December as it moved towards the West Philippine Sea. Public storm signals remained over 16 areas, including the Metro Manila area.
For Mina Marasigan in the public affairs office of NDRRMC, it was still too early to exhale. "It is still in our area of responsibility. It will hit another province. There are still a lot of areas with heavy rains and winds."
NDRRMC has forecast the storm exiting the Philippines on 10 December by local evening time.