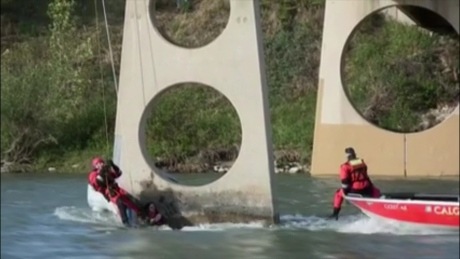 How to perform a rescue action in a river: Calgary Firefighters caught on camera
Fire crews were called in to rescue a woman after a raft overturned on the Bow River Sunday evening. The woman was one of six people on the raft when it capsized and became trapped against the abutment of the pedestrian bridge in Edworthy Park.  The other five people were pitched into the water, but were able to swim safely to shore.
The woman was found clinging to the overturned raft, which was pinned against the abutment by the strong current. Rescue crews were able to rappel from the bridge and held the woman in place until the fire department's boat arrived to carry her safely to shore. The woman, in her 20s, was treated by AHS and transported to hospital. The fire department said it was fortunate all six rafters were wearing personal flotation devices.