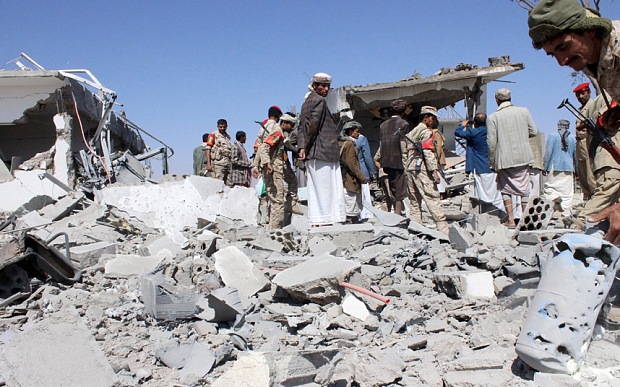 Lack of fuel could soon cause more deaths than violence in Yemen - Oxfam
Source: Oxfam

Since late March, restrictions on imports by the Saudi-led coalition have reduced the amount of fuel in Yemen to only 20 per cent of what is needed.
Lack of fuel in Yemen caused by the continuing conflict and restrictions of imports could ultimately be responsible for even more deaths than the fighting in the country, Oxfam warned today.
Fuel shortages have hit water supplies, food deliveries and health services for the 84 per cent of Yemenis in need of aid, the international agency said.
Since late March, restrictions on imports by the Saudi-led coalition have reduced the amount of fuel in Yemen to only 20 per cent of what is needed. Supplies of food and medicine have been intermittently allowed into Yemen, but they are insufficient to address the scale of the crisis. Too often supplies remain stuck in warehouses and ports due to the lack of fuel, and ground fighting is hindering the distribution of food and fuel to communities in need.
Philippe Clerc, Oxfam Country Director in Yemen said: "In Yemen, fuel is critical. Without adequate supplies of it, water pumps no longer operate, and the limited quantities of food and medicine in Yemen's main ports and warehouses spoil, as they can't be transported to the 21 million people in need of aid."
Despite the announcement of a 6-day humanitarian pause beginning last Friday, ground fighting is ongoing and the Saudi-led coalition is still restricting imports into the country.
Clerc added: "After more than 100 days of fighting, people in Yemen need a sustained flow of supplies into the country, and a permanent ceasefire to allow fuel and other supplies to be moved around, otherwise, many more people will die unnecessarily. Without urgent action, shortages could kill more people than bullets or bombs."
Due to the fuel shortages, water authorities are unable to pump clean water, and 20 million people – 80 per cent of the population – are now in need of safe water, while food supplies have been cut further. 10 million Yemenis were already struggling to get enough to eat before the crisis began in late March.
As a result, at least 1.8 million children are now at risk of diarrhoea, and nearly 400,000 children could become severely malnourished.
At least 120,000 children could die if not provided with clean water, adequate care and nutrition, according to World Health Organization data.
At least 500 pregnant women will face an increased risk of dying during childbirth, as shortage of fuel means that hospitals and maternity wards are shut due to lack of power, clean water and medical supplies.
In areas where Oxfam operates, staff report that fuel prices have quadrupled, and the price of wheat has risen by as much as 400 times as commodities become scarce and the costs of transporting them inland, processing and storing them spiral. The cost of staple food items is now well beyond the reach of millions of Yemenis. Many have received no income for the third month in a row as most banks and post offices remain closed.
The violence has killed almost 1,500 civilians so far, and forced more than 1.2 million people to leave their homes. In Taiz, Aden, Lahj and other cities, lack of fuel means that millions cannot flee to safety and they are trapped on the frontlines in a health disaster zone.
Clerc added: "People in Yemen are suffering the catastrophic combination of warplanes above, fighting on the ground, and a blockade all around. The country urgently needs a permanent ceasefire and a lifting of restrictions on imports. Otherwise, this ever deepening, man-made and totally avoidable humanitarian crisis will drain the country of the few resources it has and push people to the edge."
Notes to Editors
Over 21 million people – or 84 per cent of the population – are in need of humanitarian assistance in Yemen. This includes over 1 million people who have been forced to flee their homes since the conflict escalated in March 2015.
20.4 million people are in need water, including 9.4 million people who have had their access to water cut or severely disrupted since the escalation in the conflict, raising the risk of outbreaks of water-borne disease, including cholera.
Source: OCHA Yemen Humanitarian Catastrophe Situation Report No.14 (6 July, 2015) http://bit.ly/1RvOWIh
Yemen is now reliant on imports to meet almost 100 per cent of its fuel requirements. Since the restrictions on imports were imposed in late March, only 20 per cent of Yemen's fuel needs have been able to enter the country.
Source: OCHA, Reduced Imports Worsen Crisis, July 2015 http://bit.ly/1DdWTG9 per cent20Commercial per cent20Shipping per cent20Report per cent2010 per cent20July.pdf
The UN World Food Programme is reporting no access to either Petrol or Diesel in Aden Governorate and only sporadic access in Sanaa. The average cost of diesel and petrol has risen by over 400 per cent ($4 a litre), with a maximum of $30 for a litre of diesel recorded in May.
Source: WFP, Yemen Weekly Market Situation Update, Weeks 3 and 4: June 2015 and WFP, Yemen Weekly Market Situation Update Week 2: May 2015 http://bit.ly/1DdWTGb
A combination of lack of food, increasing levels of diarrhoea due to dirty water and undernourished mothers is leading to sharp increase in malnutrition among children. According to the United Nations, there is only a matter of weeks to act in order to prevent a further 1.3 million children becoming malnourished, and 400,000 severely so. Based on global fatality rates, if left untreated, this could cause between 120,000 and 200,000 deaths; treatment is unbearably scarce.
Sources: Yemen Humanitarian Needs Overview 2015 (Revision) June 2015, P.20 http://bit.ly/1RvOWIi
The median under-five case-fatality rate for severe acute malnutrition typically ranges from 30 per cent to 50 per cent http://bit.ly/1DdWSBX
Rubbish is piling up in cities as not enough fuel is available to power the vehicles required to dispose of it and staff are struggling to come to work due to insecurity and lack of pay. Unsanitary conditions have led to an outbreak of dengue fever which has affected over 8,000 people and caused the deaths of nearly 600 in a matter of weeks.
Source: OCHA Yemen Humanitarian Catastrophe Situation Report No. 13 (30 June, 2015) http://bit.ly/1RvOV78
As more people become unwell due to a lack of food and clean water and increasingly unhealthy and unsanitary conditions, access to health care is reducing. Health facilities remain closed in many areas due to fuel shortages, lack of staff, damaged infrastructure, lack of clean water and power, and direct attacks and appropriation by warring parties. Health facilities offering nutrition services to over 450,000 children under 5 are currently closed due to a lack of fuel and staff absence. Without the immediate resumption of fuel imports, health services will be further reduced and more people will die unnecessarily.
Source: Yemen Humanitarian Needs Overview 2015 (Revision) June 2015, P.20 http://bit.ly/1RvOWIi
Oxfam reports and surveys conducted before March 2015 showed that 10 million people in Yemen did not have enough to eat, and needed assistance.
from ReliefWeb Headlines http://bit.ly/1DdWTGd
via IFTTT