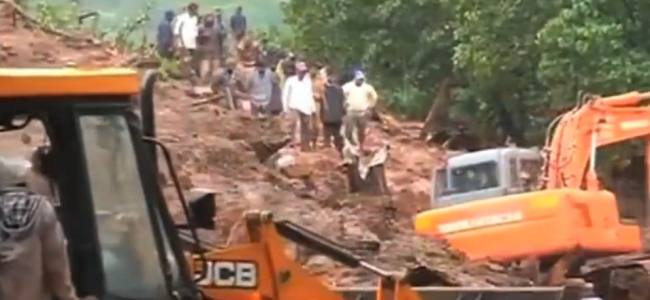 Landslide hit an indian village, 17 died
MUMBAI (AFP) – A major landslide on Wednesday struck a village in western India following heavy monsoon rains, killing at least 17 people and leaving up to 200 feared trapped, an official said.
Emergency forces rushed to a remote village in Pune district of Maharashtra state, where a hill collapsed sending mud and rocks tumbling onto homes in the morning as residents were reportedly sleeping. Information was the biggest casualty in the disaster. the village is accessible only by a narrow kutcha road. There is no cellphone network in the foothills. Higher up on the hill slops, one can get a weak BSNL signal.

"Six victims have been rescued and 17 dead bodies recovered so far," said Ms Tripti Parule, a spokesman for the National Disaster Management Authority, in an e-mail message to AFP. She earlier said 150 to 200 people were feared trapped, citing district officials.
Nine teams have been mobilised by the National Disaster Response Force with a strength of 378 trained personnel to help with the rescue effort in the village, Ms Parule said, although ongoing rains have been hampering operations.