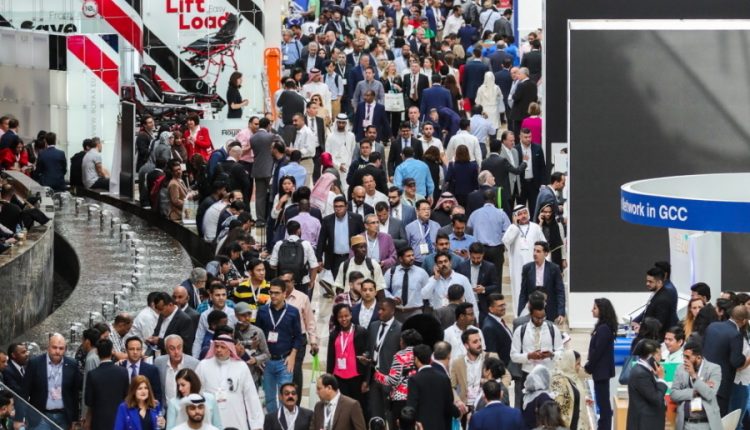 Latest research reveals UAE healthcare expenditure to top US$ 3.6 billion by 2030
More than 4,250 exhibitors from over 64 countries and 55,000 attendees expected to attend Arab Health 2020 from 27 – 30 January in Dubai, UAE
Dubai, United Arab Emirates, 2nd October 2019: Arab Health, the largest exhibition for healthcare and trade profession in the MENA region, has underscored the importance of the event as a vehicle for the delivery of economic growth in the Middle East, with the announcement that more than US$ 824 million worth of business was generated by exhibitors during the 2019 edition of the show, a year-on-year (YoY) increase of 5.9%.
The growth in business is representative of the latest research released by Colliers International Healthcare Analysis, which has revealed that healthcare spending in the UAE alone has grown at a Compound Annual Growth Rate (CAGR) of 8.8% between 2011 and 2019, and expected to reach US$ 2.4 billion by 2025 and US$ 3.6 billion by 2030.
Growth in the Saudi market is even more pronounced with a CAGR of 12% during the same period and healthcare expenditure which is predicted to top US$ 160 billion by 2030.
Commenting, Ross Williams, Exhibition Director of Arab Health, said: "Business confidence in the healthcare sector in the GCC and broader MENA region is understandably buoyant. Increases in healthcare spending from private and public sources are the most significant drivers, closely followed by rapid market and infrastructural growth. Furthermore, an increased focus on medical tourism and mandatory medical insurance, which will continue to encourage spending and contribute to a more integrated health system, are spearheading exponential growth over the coming years.
"The 2020 edition of Arab Health, which will be the first mega-event to be held in the region during the Expo 2020 year, will showcase the very latest market insights, trends and innovations in healthcare. From state-of-the-art imaging equipment to the most cost-effective disposables, to developments in surgery to advances in prosthetics, Arab Health continues to be at the forefront of healthcare in the Middle East."
Last year, many companies generated a high level of commercial interest during the show with Spanish tech start-up MedLab Media Group signing a memorandum of understanding (MoU) with Saudi Arabia's Advanced AI company to boost AI development under Saudi Arabia's 2030 vision.
Other deals signed at the event included an announcement by Philips who signed an MoU with Saudi German Hospital Group for collaboration on tele-ICU and other key healthcare initiatives to further their offering in KSA hospitals. Gulf Medical University Ajman also entered into a partnership with Vita-Salute San Raffaele University, a leading University in Italy, for strategic collaboration in the areas of academic and clinical cooperation as well as research.
The theme for the 45th edition of Arab Health will be Connectivity for better healthcare delivery, with the show floor split into eight distinct sectors, including medical equipment and devices; disposable and consumer goods; healthcare infrastructure and assets; imaging and diagnostics; and preventive and post-diagnostics treatments, amongst others.
"This year we're doing things slightly differently. For the first time, the show floor will be split into sectors bringing the show layout in line with the rest of the industry. Ultimately, sectorisation promotes targeted traffic, fast-track connections and generates an increased number of better-quality leads for exhibitors," said Williams.
Due to the emphasis being placed on healthcare industry infrastructure – US$ 200 billion is expected to be injected into this market in the next five years – several halls will be dedicated to the Healthcare Infrastructure and Assets sector. Businesses showcasing construction materials, healthcare design and architecture, transportation and kitchens and catering will all be on show floor with NAFFCO, Paramed, Conf Industries, BMB Medical and SMP Canada already confirmed.
Working alongside government entities such as the UAE Ministry of Health and Prevention, Dubai Health Authority, Department of Health Abu Dhabi and SEHA, Arab Heath will host the Innovation Hub – a dedicated area for attendees to immerse themselves in the latest healthcare innovations. Returning to the exhibition following a successful debut last year, the Innov8 Talks segment will provide start-ups and entrepreneurs with the opportunity to present their healthcare innovations to a panel of industry experts and potential investors. Judges from Amazon and Raiven Capital have already been confirmed for the 2020 edition, and the show is continuing to receive applications to showcase novel approaches in healthcare.
A total of 14 Continuing Medical Education (CME) conferences will take place during the four days of Arab Health 2020, welcoming more than 5,000 delegates to popular returning tracks including Obs & Gyne, Diabetes and Total Radiology, as well as eight new conferences that include; Midwifery, Patient Experience, Physical Medicine, Rehabilitation & Sports Medicine, and a Healthcare Investment Forum, amongst others.
Organised by Informa Markets, an anticipated 4,250+ exhibitors from more than 64 countries and 55,000 visitors are expected to attend the 2020 edition of the show which takes place from 27 – 30 January at the Dubai World Trade Centre and Conrad Dubai Hotel. With 37 dedicated country pavilions, international representation at the show remains robust with many pavilions increasing in size and number of exhibiting company's YoY.
Come discover Arab Health 2020!