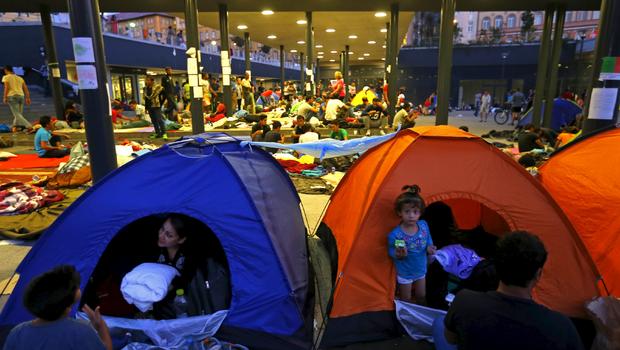 Migrant crisis: UNHCR offer assistance to the Hungarian authorities
UNHCR have met the authorities in Budapest and have offered UNHCR's assistance to deal with the increasing number of refugees and migrants arriving in Hungary. Here below we publish the UNHCR pressrelease wich call to action for help migrants and refugees:

"We have repeated our call for simplifying and streamlining registration, reception at the collection points, registration centres and reception centres and care for those who come to seek international protection. Over 150,000 refugees and migrants have crossed into Hungary from Serbia since January this year. A majority of those are from Syria, Afghanistan and Iraq. Some other nationalities include Pakistanis, Bangladeshis and people from Sub-Saharan Africa.
UNHCR expects more people to come during the coming months. The number of arrivals yesterday was over 2,700 people, as the daily average has remained around 2,000 since last month. We are looking to Hungary to work with UNHCR in partnership to deal with the humanitarian needs of those arriving in the country. Reception standards need to improve for those people who arrive into Hungary every day. There were women and children sleeping in the open last night at Rözske, near the Serbian border. We call on the Hungarian authorities: To improve and streamline the registration process and to allow the humanitarian organizations to provide assistance to the people at the collection points near the border and improve reception conditions for asylum-seekers. To implement the recently passed legislation in accordance with the EU and international law. To differentiate those in need of international protection from those who are not in need, and therefore which return procedures should be put in place in accordance with human rights standards. UNHCR is mobilizing relief items, including tents, plastic sheets and thermal blankets, to help those who enter Hungary. Currently, some 30,000 people in Greece are on the move. Around 3,000 leave Greece for FYR Macedonia, Serbia and Hungary daily. It is very important that Europe continues to provide access to territory to all those who are seeking protection here. UNHCR expect the trends of arrivals to Greece continue at least till October, as sailing in the Aegean Sea becomes extremely difficult. Deteriorating conditions inside Syria and neighbouring countries are driving thousands of Syrians to risk everything on perilous journeys to Europe. As the crisis digs deeper into its fifth year with no sign of a political solution in sight, despair is on the rise and hope is in short supply. The funding appeal to help Syrian refugees in the neighbouring countries is just 37 per cent funded. Since last year trends have been very clear, as we were trying to convey to the countries in Europe that more refugees will be on the move in wake of dwindling support for them in Syria's neighbourhood. We were not heard and as we see today Europe is unprepared for those arriving to seek international protection in Europe. We are calling on the EU to take a common approach and bold steps in managing the current refugee crisis better. Countries have to show solidarity with the world's most vulnerable population, who come in search of safety in Europe. No country can be left to deal with the issue single-handedly. UNHCR would like to thank volunteers, NGOs and police authorities for the efforts made to deal with refugees and migrants with humanity. UNHCR calls on the European states to assist the Hungarian authorities to respond to the emergency situation, and expand the relocation plan for Greece and Italy to Hungary".