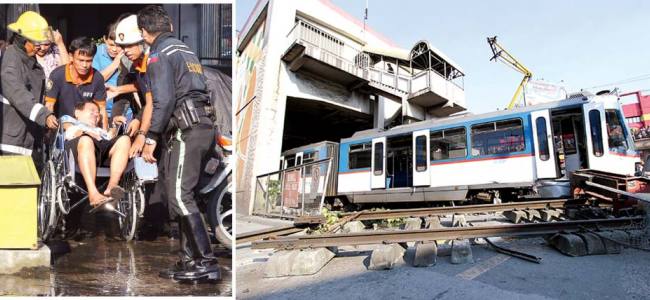 Over 30 Injured in Philippine Commuter Train Crash
MANILA, Philippines (AP) — A Philippine commuter train rammed through a concrete barrier at the end of the rail line and rolled into a busy intersection on Wednesday, injuring at least 34 people and damaging two vehicles on the street.
Rescuers removed injured passengers from the train's front car after the accident in Pasay city in metropolitan Manila. It caused a huge traffic jam, but the train stayed upright after smashing through the barrier, likely avoiding a more serious accident with fatalities.
At least 34 people were brought to hospitals with mostly minor injuries, Transportation and Communication Secretary Joseph Emilio Abaya said. Most suffered bruises, though one had a broken arm and another had a dislocated joint.
The train had lost power due to a technical problem and was being pushed by another train when it detached and rolled out of control at the final station on the line, said Hernando Cabrera, spokesman of the agency that operates the train system.
Abaya said the procedure would have been for the stalled train to be pushed at 15 kilometers (10 miles) per hour but after it detached it was apparently moving faster because the steel "stopper" at the end of the line was unable to block it. The lead train car pushed the barrier about 50 meters (yards) from its original position.
Abaya said the drivers of the two trains will be investigated by the police and his department will create a separate investigating body.

"I don't offer any excuse for this," he told TV5 television. "We will find out what happened and we will be transparent and explain it to the public."
Senior Superintendent Florencio Ortilla, who heads the Pasay city police, said the train toppled a concrete post and pushed a portion of the railway track out into the crowded intersection.
Many passengers were hurled toward the front of the train, police said.
Regina Santos said she and other passengers in the lead car had asked to be let off the train when it earlier stalled between two stations but the driver refused to open the doors.
She said that just before the train crashed the driver told the passengers to open the doors using the emergency levers and to brace themselves.
"I stood by the door just in case," Santos, who was uninjured, told The Associated Press. "I prayed to God to save us."
The often-packed train system runs on an elevated track along EDSA highway, the busiest thoroughfare in Manila, and then goes down to street level as it approaches the final station, where the accident happened.