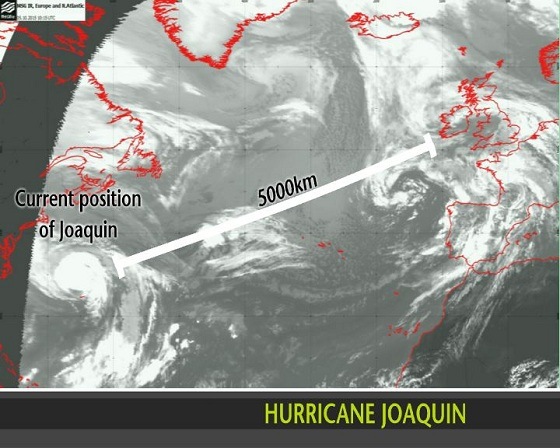 Possible impacts of ex-Hurricane Joaquin in the UK
5 October 2015 (MET OFFICE) – What influence might ex-Hurricane Joaquin have on the UK's weather this week? MET OFFICE take a look at the forecast for this week. There has been much speculation about what influence Hurricane Joaquin may have on UK weather later this week. Hurricane Joaquin, now a Category 1 storm, is currently moving northeastwards away from Bermuda and will continue to weaken as it transitions into a mid-latitude depression and travels across the Atlantic.
Towards next weekend, this low pressure centre will approach the west of the UK but there is some uncertainty as to what impacts, if any, this system will have on the UK as it is still some way off. A ridge of high pressure will bring fine conditions for many on Thursday and Friday and as high pressure builds from Scandinavia over the weekend this looks like holding back any weather systems approaching from the Atlantic. In fact many places will see fine weather and this means that any impacts from ex-Hurricane Joaquin are likely to be limited to the far west of the UK.
Deputy Chief Meteorologist Laura Paterson said "the forecast is for ex-Hurricane Joaquin to stay away from mainland UK. There is some uncertainty, but the depression is likely to either come to a halt to the southwest of Ireland and weaken, or track to the south of the country and into the Continent.

The south and southwestern parts of the UK may see increased winds with a small chance of gales in exposed areas."
Our meteorologists will continue to monitor the weather and update our forecasts accordingly. If you have plans for the weekend, as ever it's best to check the latest forecast for your area to see what the weather will bring.