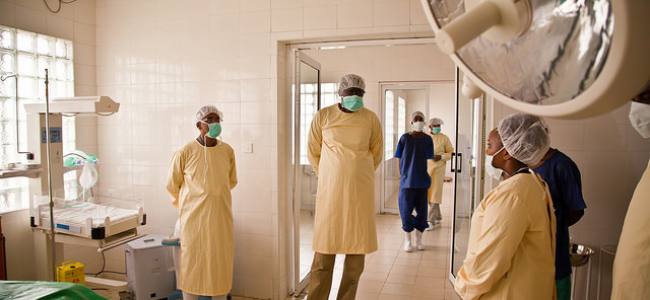 Red Cross opens Ebola treatment centre in Sierra Leone
Freetown, 15 September 2014 – The International Federation of Red Cross and Red Crescent Societies (IFRC) has opened its first Ebola treatment centre in Kenema, Sierra Leone, one of the districts worst affected by the deadly outbreak.
"This treatment centre is desperately needed," says Tiina Saarikoski, IFRC treatment centre manager. "Kenema has been greatly affected by this outbreak. This centre will help relieve some of the pressure on the local government hospital where several doctors and nurses have fallen victim to the Ebola outbreak."
Built at the request of the government on the outskirts of Kenema city, the treatment centre is currently staffed with 19 international workers and 80 national employees. It has already received its first patients, four men and an 11 year old girl from the capital city Freetown. To date, Sierra Leone has recorded more than 1,400 Ebola cases and 524 deaths.
"The treatment centre will accommodate 60 patients, but for now, we are going to stagger admissions," adds Saarikoski. "Our team is ready, but for their safety, and the safety of patients, we want to ensure they are not overwhelmed. Making a mistake here can prove deadly and is obviously something we want to avoid."

The treatment centre is expected to operate for up to twelve months, if funding is available to keep the doors open. "We are greatly appreciative of the support from our donors which enabled us to open the Ebola treatment centre," says Stephen McAndrew, IFRC head of emergency Ebola operations in Sierra Leone. "However, at the moment, we do not have sufficient funding to keep the clinic open for the full twelve months.  Also, with the situation evolving, we will have to extend and expand our efforts, to keep up with escalating needs."
Funds are needed to support the deployment of additional healthcare workers as the operation scales up and more patients are admitted, as well as the tools, supplies and equipment needed to do the job. "When operating at full capacity, we can go through up to 200 sets of personal protective equipment every day," says Saarikoski. "Most of the kit has to be destroyed after one use to avoid cross contamination."
IFRC has revised its emergency appeal upwards from 1.4 million Swiss francs to 12.3 million Swiss francs, to expand its operations in response to the Ebola outbreak in Sierra Leone. An extraordinary allocation of the IFRC disaster relief emergency fund of one million Swiss francs also allowed for the deployment of an emergency response unit to Kenema to facilitate the start-up of the treatment centre.
Since the first confirmed case was identified in Sierra Leone in May, teams of volunteers with the Sierra Leone Red Cross Society have been trained and deployed to communities to collect and bury bodies, follow up with those who may have come into contact with an infected person, raise awareness about Ebola, and provide psychosocial support. These activities will be scaled up under the revised emergency appeal, with more than 1,600 volunteers trained to ensure larger geographical areas can be reached.
The International Federation of Red Cross and Red Crescent Societies (IFRC) is the world's largest volunteer-based humanitarian network, reaching 150 million people each year through its 189 member National Societies. Together, IFRC acts before, during and after disasters and health emergencies to meet the needs and improve the lives of vulnerable people. It does so with impartiality as to nationality, race, gender, religious beliefs, class and political opinions. For more information, please visit www.ifrc.org. You can also connect with us on Facebook, Twitter, YouTube and Flickr.