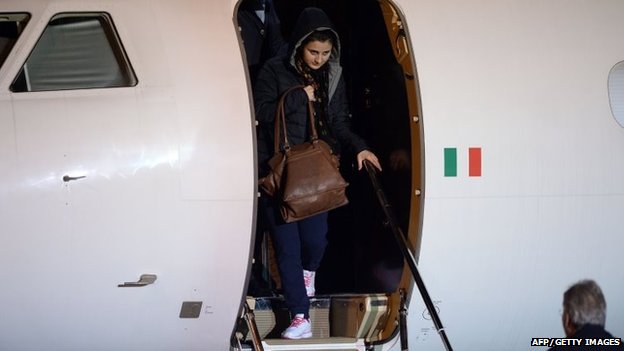 Syria conflict: Italian aid worker hostages freed
Two Italian aid workers who were taken hostage in Syria more than five months ago have been released.
Greta Ramelli, 20, and Vanessa Marzullo, 21, were greeted by Italy's foreign minister as they arrived at Rome airport early on Friday.
No details have been provided on the circumstances behind their release.
The pair had been working on humanitarian projects when they were abducted in July 2014 in the northern province of Aleppo.
The two young women flew in from Turkey and were welcomed by Foreign Minister Paolo Gentiloni.
They have been taken to hospital for a check-up before meeting anti-terror prosecutors, who have opened an investigation into the abduction.
'Intense work'
Earlier, Ms Marzullo's father, Salvatore, said: "I'm feeling such enormous joy: this is the news I have been waiting for a long time."
The two women were working for the aid group Horryaty when they were kidnapped last year.
In a video showing the hostages and released two weeks ago, their captors said the women were being detained by the al-Nusra Front, al-Qaeda's branch in Syria.

"We are in big danger and we could be killed," said one of the women, speaking in English. "The government and its militaries are responsible [for] our lives."
The Italian foreign ministry said the release was the result of "intense work by team Italy", without providing details.
The BBC's Gillian Hazel in Rome says there are unconfirmed rumours that a ransom worth up to $15m (£9.9m) had been paid for the pair's release following negotiations facilitated by Qatar.
Italy has paid ransoms for Italian captives in the past. Both the al-Nusra Front and its rival, Islamic State, have taken hostages during the conflict in Syria.
Source: BBC