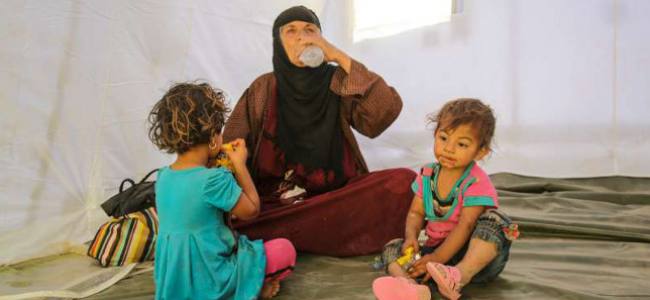 UNHCR responds to massive displacement of Iraqis from Mosul
Some 300,000 people have been forced to flee their homes in Mosul, Iraq, after violence erupted earlier this week.
The heavy fighting between government forces and rebels has forced women, children and families to flee to Iraq's Kurdistan Region, which already hosts over 215,000 Syrian refugees. UNHCR staff report that many fled with little more than the clothes they were wearing. Many people have no money, and nowhere to go.
The UN Refugee Agency (UNHCR) promptly responded to the emergency by providing lifesaving aid to the many forced to leave their homes. Despite the challenges and difficulties in reaching people because of the insecurity, emergency relief packs including tents, cooking sets and sanitary items are being deployed immediately.
The protection staff are also identifying the most vulnerable among the displaced, such as children and pregnant women, vulnerably elderly people and those with disabilities to provide immediate emergency support.
A growing number of people are now staying in a hastily set-up transit camp near the Khazair checkpoint, some 40 kilometres from Mosul, UNHCR spokesman Adrian Edwards said in Geneva.
"Over the past two days, UNHCR has helped the government pitch tents there, and is providing plastic sheets, hygiene kits and other relief items to the displaced. The host communities are providing hot meals and other food. Sister UN agencies are installing latrines and water tanks, and providing other relief items," Edwards said.