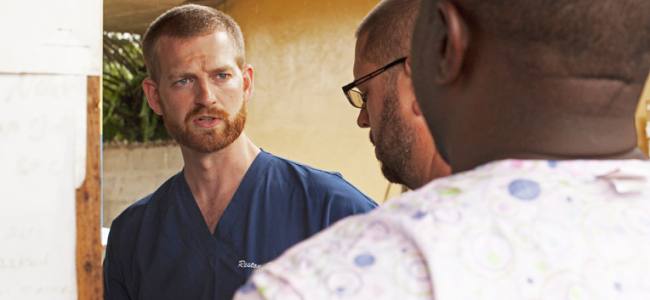 US Ebola Patient Will Be Released after receiving an experimental drug treatment
Dr. Kent Brantly, an American who contracted Ebola while working at a missionary hospital in Liberia, is being released today after receiving an experimental drug treatment for the disease. One of two aid workers flown back from Liberia to a US hospital in Atlanta, he has reportedly recovered.
US Ebola patient at @emoryhealthsci in Atlanta to be released, hospital tells @BloombergNews. First US Ebola patient, and first cured.

— Drew Armstrong (@ArmstrongDrew) August 21, 2014

Brantly went to Emory University Hospital with one other US aid worker, Nancy Writebol, infected in Liberia. The hospital plans to hold a news conference Thursday to discuss both patients' discharge, AP reports.
Both were treated with the experimental ZMapp combination of antibodies developed in collaboration by U.S. and Canadian companies, including Mapp Bio and LeafBio, both based in San Diego, Calif. Other potential Ebola drugs are under development by Sarepta, a Cambridge, Mass., biotech, and Tekmira, a Canadian company based in British Columbia. In results released Wednesday, Tekmira's potential drug showed positive results versus a virus similar to Ebola in animal tests–an announcement that probably contributed to the company's stock surge Thursday morning, despite the fact it wasn't involved in Brantly's landmark case. Tekmira's drug candidate stands out for the effect its shown even as a delayed treatment, Bloomberg reports. (See correction, below.)
Both Brantly and Writebol were in Liberia working for Samaritan's Purse, a humanitarian organization. Franklin Graham, president of Samaritan's Purse, issued a statement, according to the AP: "Today I join all of our Samaritan's Purse team around the world in giving thanks to God as we celebrate Dr. Kent Brantly's recovery from Ebola and release from the hospital."
The Ebola outbreak in West Africa is the most severe yet, having killed 1,350 so far, according to the AP.