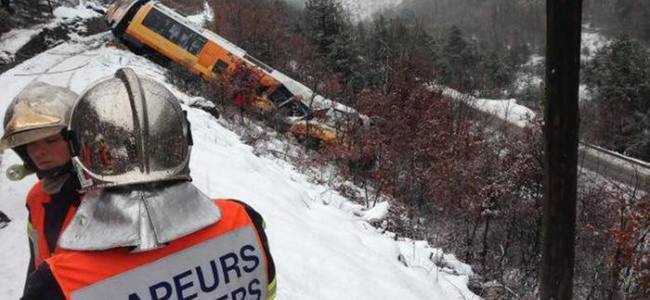 VIDEO - 200 passengers rescued in a train derailment in Switzerland
(MAIL ONLINE) Train carrying 200 passengers derailed after landslide in cars causing Swiss mountain hanging over steep ravine. The passengers were forced to run to an end carriage to rebalance since slipped off the tracks. Two hundred passengers were aboard the train when the derailment Police About 11 people were injured, he said, five of them seriously, with the losses that have to be airlifted to hospital.

Rescuers said they were finding it difficult to get to the scene of the accident, but had released all passengers Afternoon
Heavy rain is forecast for the area, so the rescue operation a race against time. Three cars were hanging on a cliff in Switzerland today in a horrific train crash that killed 11 Alpine injured.
A landslide caused by heavy rains caused the narrow gauge train to derail, with a car from sliding off the tracks leaving passengers trapped in the cars already teetering on the abyss, only falling stopped trees. Some 11 passengers on a Rhaetische Bahn train from Chur to St. Moritz were injured, five of them seriously, and had to be airlifted by helicopter to local hospitals as rescuers struggled to reach people trapped in car hanging up in the air.
Desperate passengers aboard the shuttle car in the sky were forced to walk up the road, in an attempt to change the weight of the cart and prevent it from sinking over the edge.
Steven Bueller, a passenger on board, told Swiss radio: "We all went to the back to change the weight, to try to stop their pitching in the ravine was a nightmarish scene with many people terrified on board.. ' The first car behind the locomotive plunged into the gorge and landed on the rocks and trees about 100 meters from the railway.
The train was en route from St. Moritz to Chur when he was hit by the landslide.
Daniel Zinsli Police spokesman said there were at least 200 people in the train, but there were no reports of fatalities. Four helicopters were deployed Rega take injured passengers to hospital. A team of paramedics was quickly transferred by helicopter to the area to deal surprised many travelers, at least 100 of which came back down the train line to safety. The airspace above the wreck has been closed to all but emergency services craft. The train is operated by Rhaetische Bahn, which operates a network of narrow gauge routes in the mountainous southeastern corner of Switzerland. The train operator, privately run hotel offers a number of major resorts, including St. Moritz and Davos, and crosses the Bernina Pass to the Italian border and Tirano. Its distinctive red trains are very popular with tourists, especially during the summer months.
http://youtu.be/uH-PeRqXJ7s