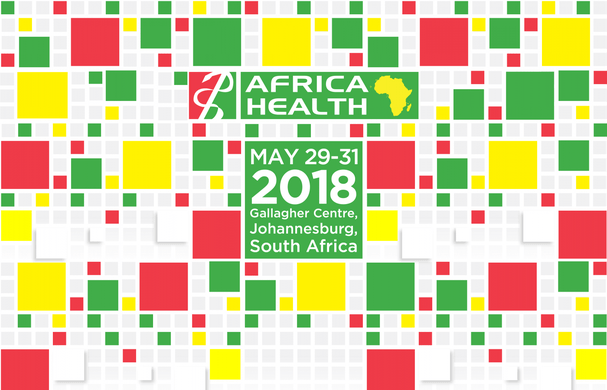 Africa Health Exhibition & Congress 2018 - The highlight over the event days
Over 10 000 health industry professionals from throughout Africa attended day one of the 2018 Africa Health Exhibition and Conference in Johannesburg where healthcare manufacturers, distributors and service providers showcased their offerings to this global healthcare hub
Ryan Sanderson, Exhibition Director for Africa Health says that over 550 exhibitors and over 150 local and international conference speakers will share the latest insights into new technologies and trends within the healthcare sector.
"We are excited at the prospect of reaching delegates from across Africa, and to be able to share information on cutting edge technology and services that will enable greater access to healthcare within the region", says Sanderson.
Among these is multinational giant, General Electric, who views the Africa Health Exhibition and Congress as a key entry to different and diverse markets which are often difficult to penetrate. With products ranging from baby warmers and incubators to the high-tech cyclotron, which produces radio isotopes, this forum provides the opportunity for GE to reach healthcare institutions from throughout Africa and across all fields of medicine.
__________ FIRST DAY
Speaking at the event the first day, Graham Maritz, Southern Africa General Manager said that the forum enables General Electric to demonstrate its presence in Africa and strategy for growth within the region, adding that, "Our motto of 'making a difference in moments that matter' means a focus on outcomes and the impact on a patient."
The partner country for both the 2018 and 2019 editions of Africa Health is India, which boasts a presence of 52 exhibiting companies represented under the umbrella of coordinating authority, the Federation of Indian Chambers of Commerce and Industry (FICCI). Manjeet Kaur, Director for FICCI says that, representing Indian companies under one umbrella enables a collective approach to promoting the Indian healthcare sector.
"The Africa Health conference allows us to promote cooperation between India and Africa so that trade is enhanced. It is a forum which allows India to showcase what it has to offer and also provides an opportunity for us to learn about the healthcare requirements in other regions", she says.
Launch of world-first in-ear monitoring app
The World Health Organisation indicates that 1.1 billion youth are at risk of developing hearing loss and that hearing loss among teenagers has risen from 3.5% to 5.3% between 1994 and 2006, adding that the rate of listening to music through headphones has increased to 75% for this group.
Proudly South African startup company, hearX Group, with partner company Listen Longer launched their groundbreaking monitoring app for the prevention and detection of hearing problems, at the Africa Health Exhibition and Congress.
dbTrack is an exciting and easy to use digital solution for the threat of hearing loss, as it tracks listening behaviors for users in their ear canal. It incorporates a monitoring device, built into dbTrack's certified earphones, which measures noise exposure in the canal for music listeners. When paired with the certified app on a smartphone it will cleverly indicate when the listener has reached their daily sound exposure in order to avoid ear damage.
"With the growing trend of earphone usage, it's no longer a feasible solution to expect people to stop using these devices. The dbTrack allows people to self-regulate because it measures the volume and informs you for how long the listener can sustain that volume before suffering potential hearing loss", explains Reáni Fouché, Business Analyst for Listen Longer.
Tanya Boretti, Marketing Manager for the hearX Group explains that the dbTrack is a device which the audiology market can recommend to their patients and which allows patients to take responsibility for their own hearing health. "Smartphone solutions, like the dbTrack, are important in areas like Africa where there is a shortage of healthcare resources because it decentralizes healthcare and uses technology to increase access to healthcare", says Boretti.
Tshemba's win-win 'voluntourism' solution
Showcasing their unique offering at the Africa Health 2018 Exhibition is the Tshemba Foundation who provide a unique opportunity for both local and international health professionals to help those in dire need of medical attention while enjoying the country's rich wildlife.
With the goal of improving access to healthcare for low-income communities in Limpopo and Mpumalanga and upskilling local healthcare providers, Tshemba's novel solution provides an enriching opportunity for those health professionals wishing to make a difference.
__________ SECOND DAY
Into its second day, the 2018 Africa Health Exhibition and Congress has drawn over 10,000 delegates to the largest healthcare event on the continent, which has been growing in significance each year as an increasing number of medical technology, device and pharma manufacturers from all corners of the globe realise the benefits of showcasing their products at this important healthcare hub.
Recognising this potential is the Polish government, who are leveraging off the Africa Health Exhibition to advance the promotion of Poland's medical devices sector outside the EU.
Speaking at a press briefing at the Africa Health Congress, Witold Wlodarczyk, Director General of the Polish Chamber of Commerce of Medical Products (POLMED) said that devices manufactured in Poland were of an extremely high quality as they were subjected to EU quality standards.
Poland's medical device market has a value of over USD 2.9 billion, while the export value of medical equipment amounted to over USD 1.3 billion in 2016 and continues to grow.
Wlodarczyk added that their aim was to promote priority sectors of the Polish economy abroad, which could provide Polish companies with considerable opportunities for entering markets that were previously difficult to penetrate, such as Asia, Europe, Africa and Latin America.
New, no blood, no labs glucose monitor
The World Health Organisation reports that globally, the number of adults living with diabetes has risen from 108 million in 1980 to a staggering 422 million in 2014. About 1.6 million deaths were caused by diabetes in 2015 worldwide, while 2.2 million deaths were attributed to high blood glucose in 2012.
EPS Bio Technology Corp, a Taiwanese firm manufacturing high quality glucose self-monitoring systems is playing an active role in combating glucose related diseases through their world-first Sugarwatch – a stylish device which measures glucose levels in the body through electrochemical technology. This painless, bloodless device which does not make use of strips, lancets or lancing devices will automatically measure glucose levels, making visits to the lab for glucose tests a thing of the past.
Using targeted frequency therapy to fight infection

Dr Stefan Rastocny's ground-breaking therapy that fights infections with parasites, bacteria, viruses and fungi by using targeted frequency therapy (TFT) is also being showcased at this year's Africa Health Exhibition. Rastocny, a former OB/GYN with 30 years of experience under his belt says that this procedure – a low energy procedure which fights infections with targeted electrical frequencies – has been tried and tested in partnership with the Dr Rilling Institute in Germany since 2005. The procedure, also called Transcutaneous Electric Nerve Stimulation (TENS), has been used to treat intolerable pain without any harmful side effects. Dr Rastocny adds that he has used his cure to treat many types of ailments in Germany.
According to Rastocny, the treatment is pain free and can be used for all ages as no chemical substances are administered. The device used to perform the procedure is easy to use, allowing even non-medical personnel to perform the procedure. The procedure also requires a convenient portable frequency generator for easy transporting.
The device is programmed with chip cards, which are able to alter electrical frequencies, delivered by insulated electrodes through the patient's skin. These frequencies match with the frequencies of germs which causes resonance and resonance catastrophe. This results in vibrations in the infected germ damaging and eventually killing it off.
Improved vein visibility
Showcasing their new 'Vein Showing Sytem' series at the Africa Health Exhibition & Congress is young Chinese company, Shenzhen Yuanhua Medical Equipment. The vein showing system is a portable medical device used to clearly map out veins in the body and present an intricate picture of a patient's vein network. Using near IR light properties, this device clearly projects the patient's veins on the surface of their skin using 3D display for better visibility.
The technology works on the basis that oxygenated haemoglobin in peripheral tissues and veins absorb near IR light differently, producing different images when exposed to light. This allows veins to appear differently to peripheral tissue, allowing for one complete picture and better observation of veins and making is easier to find the best possible injection point in a patient.
This device is suitable for all patients, including babies and patients with anaemia or hypotension.
__________ THIRD DAY
Public-Private Partnerships (PPPs) in health are on the rise in Africa
Public-Private Partnerships (PPPs) in health are on the rise in Africa as governments recognise the important role which the private sector can play in increasing access to healthcare for the African population.
Day three of the 2018 Africa Health Exhibition & Congress saw the continent's top most echelon of leaders come together to attend the prestigious 'Leaders Forum' where they engaged on a model for operation to meet ever-increasing healthcare spend, and to deliver accessible and affordable healthcare in developing economies.
Under the topic of 'Harnessing PPPs in healthcare: Imperatives for today's leaders', Chairman of the session, JP Labuschagne, Africa Infrastructure and Spatial Projects Leader at Deloitte in Kenya said that PPPs are one of the tools which enable governments to extend their reach in providing services to their citizens. But, he added, that it was critical that both parties understood their roles, responsibilities and risks, and that there were measurement structures in place.
Strover Maganedisa, South Africa's Head of the PPP in the Treasury, said that there was general acknowledgement on the changing nature of PPPs and that the standard definitions relating to PPPs needed a recalibration in order to avoid a disconnect between current PPPs and those of the future. "Traditionally, PPPs were mostly focussed on infrastructure, but this is evolving and in future we could see PPPs where the private sector could build a hospital as well as provide equipment services to government patients in that hospital for which government would pay a fee."
Maganedisa added that new technology and innovation would change the way PPPs are developed and implemented and provided a South African case study – the Nkosi Albert Luthuli project – which is a technology driven PPP which has turned an ordinary referral hospital into a state of the art, paperless environment which has been successfully running for 15 years.
Professor Khama Rogo, Lead Health Specialist and the head of the 'Health in Africa' Initiative at the World Bank began by explaining that the private sector encompassed all entities that were not state. This included for-profit and not-for-profit organisations such as faith-based organisations, adding that all African leaders came into power wanting to improve health, and that none of them came in with the intention of ignoring the private sector. Where this has happened, he added, it has been a mistake and unintentional as everything in healthcare is impacted by the private sector, for example that medicines are always manufactured in the private sector.
Rogo, who listed various 'factors for success' stressed the need for strong and sustainable government-led public private dialogue which looks at current policy and legislation.
"We have always focussed on PPPs as a sort of legal transaction but actually they start with the engagement process. In every country that the World Bank has worked in, we have established a forum for dialogue."
Kgomo said that as the nature of PPPs evolve so laws and policies must change to accommodate this, adding that governments must lead on policy and regulatory reforms that are needed and must be able to project the implications of these and ensure that they understood at all levels.
Rogo added that it was crucial that PPPs are linked to the national health agenda and that systems are put in place to ensure continuity and to protect the interest of the public.
"Government must see itself as the initiator, the protector and the prioritiser," he said.
He added that governments must ensure sustainability of the project and that any PPP should speak to the priorities for the health sector. "The private sector entering into a PPP must be committed to invest in that country and be committed to sustainability of the project", he said.
Supporting access to healthcare
Each year, proceeds from the conferences held at Africa Health Exhibition & Congress are donated to an organisation that stands out and does exceptional work in the field of healthcare.
This year, a cheque for R 559, 000.00 was handed over to the Rural Doctor's Association of Southern Africa (RuDASA) who work towards improving healthcare in rural areas in South Africa. The aim of this membership-based organization is to provide adequate training for health care professions and aims to provide a long term solution for rural healthcare. Its mission is to adequately staff rural health facilities with qualified professionals and act as a mouthpiece for rural doctors when it comes to training and working conditions.
RuDASA, which has been in operation for 22 years, acts as a mouthpiece for rural health professionals and creates connections and networks between doctors.
"We are involved in a number of initiatives to advocate for and address the needs of rural doctors. Where there's an issue that RuDASA cannot resolve, we will tap into our membership to solve it or escalate it to provincial or national government," said Dr Mosa Moshabela, Chairperson of RuDASA.
More about Informa Life Science Exhibitions:
Informa Life Sciences Exhibitions, in charge of the healthcare portfolio within Informa's Global Exhibitions division, organises 27 exhibitions yearly covering the Middle East, Africa, Asia, Europe and US market, connecting more than 230,000 healthcare professionals worldwide and offering a range of marketing solutions for companies involved with the healthcare sector. Over 100 congresses take place in parallel with the exhibitions.