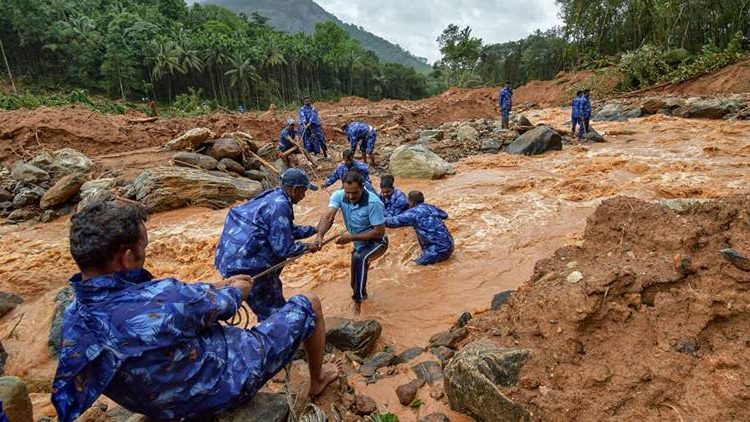 INDIA - Kerala plagued by floodwaters and dead toll rises over 200
KERALA (INDIA) – After more than a week of heavy rains, on Sunday floodwaters started receding across Kerala as rain became intermittent on Sunday
Kerala is now facing the enormous task of rehabilitation, preventing disease and rebuilding the state, with around 7,24,649 people who are living in 5,645 camps and extensive damage to infrastructure that includes 10,000 km of broken roads. The dead toll on Sunday was 209, however now that waters are reciding the victims are even more.
The mail problem now, with the prevention of epidemics and water-borne diseases and a possible rise in cases of leptospirosis, a bacterial disease that affects both humans and animals, and is contracted when cuts in the skin come in contact with infected animal urine.
SOURCE: PreventionWeb
"Vijayan said ensuring hygiene and clearing waste from flood-hit areas was going to be a huge challenge. He said that each affected ward will have separate teams to ensure hygiene and that volunteers will be enrolled for this task.
The CM chaired a series of meetings on Sunday to put in place a preliminary framework for rebuilding Kerala. Ministers, senior officials of railways, PWD and other departments attended. It was decided that as soon as water recedes, local bodies will begin inspection of each evacuated home for electrical and structural safety. Care will be taken to prevent electrical accidents once power supply is restored to abandoned homes.

The KSRTC and railways restored services in more routes on Sunday. With Ernakulam-Shoranur rail route still closed, travel to Malabar continues to be a problem. The government also decided to provide textbooks and uniforms free of cost to all students who lost them during the flood.
In isolated pockets, the water level wasn't receding quickly enough and people remained stranded. At Chengannur alone in Alappuzha district, at least 5,000 were stranded, according to revenue officials. The CM commended the yeoman service rendered by fishermen in rescue missions. He also thanked the Union government, PM Narendra Modi, home minister Rajnath Singh, governor P Sathasivam and the non-resident Keralite community for their overwhelming support in the hour of need.
Indicating the worldwide attention the Kerala floods have attracted, worshippers at St Peter's Square in the Vatican on Sunday held aloft signs that read "Pray for Kerala". Pope Francis said, "Our solidarity and the concrete support of the international community should not lack for our brothers (in Kerala)". A group of 10 doctors from the Malayali diaspora have launched a Facebook initiative to monitor the health conditions of Kerala's flood-affected people and to facilitate prompt interventions.
Doctors warned of the threat of diseases as people return to abandoned houses. Dr Ashadevi, additional district medical officer (public health), said the health department was expecting more cases of fever and leptospirosis from flood-hit areas. "We have initiated preventive measures and distributed doxycycline tablets to all people leaving relief camps. Volunteers and health officials should carry out cleaning work only after consuming doxycycline tablets," the ADMO said.
Meanwhile, the water level in the Idukki reservoir rose to 2,402.3 feet at 4 pm on Sunday. This was because dam officials reduced the release of water to 700 cu m/sec from 800 cu m/sec on Saturday evening, using 115 cu m/sec water for power generation. Once the full reservoir level (FRL) is reached, the KSEB dam safety wing will be forced to release more water from the Idukki dam. The catchment area, however, has recorded low rainfall during the past 24 hours.
The water level in Mullaperiyar dam came down to 140.1 feet on Sunday compared the 141.3 feet on Saturday evening. Meanwhile, Tamil Nadu deputy chief minister O Panneerselvam who was inspecting the damaged Kottarakkara-Dindigual NH at Erachilpalam near Kumily in Kerala-Tamil Nadu border, said Tamil Nadu was not in favour of reducing the water level in Mullaperiyar dam to 139 feet.
Meanwhile, traffic has been restored on several roads, although traffic regulations were imposed on Nadukani Ghat Road connecting Nilambur with Gudallur."