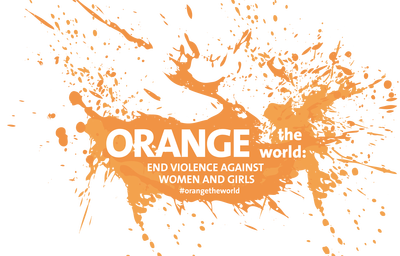 #ORANGETHEWORLD - International Day for the Elimination of Violence against women and girls
November, 25 – Violence against women and girls in a global plague. One in three women around the world experienced psychological, sexual and corporal violence, often by someone they usually trust and love. Among women around the world who were victims of homicide in 2012, almost half were killed by intimate partners or family members. Violence against women also causes economic problems, such as lack of income, medications and emotional costs. Above all, it destroys lives.
Launched in 2008, United Nations Secretary-General Ban Ki-moon's UNiTE to End Violence against Women campaign is a multi-year effort aimed at preventing and eliminating violence against women and girls around the world.
UNiTE calls on governments, civil society, women's organizations, young people, the private sector, the media and the entire UN system to join forces in addressing the global pandemic of violence against women and girls.

The campaign builds on existing international legal and policy frameworks, and works to synergize the efforts of all UN offices and agencies working to end violence against women. It sets out five key outcomes to be achieved in all countries by 2015:
Adoption and enforcement of national laws to address and punish all forms of violence against women and girls, in line with international human rights standards.
Adoption and implementation of multi-sectoral national plans of action that emphasize prevention and are adequately resourced.
Establishment of data collection and analysis systems, on the prevalence of various forms of violence against women and girls.
Establishment of national and/or local campaigns and the engagement of a diverse range of civil society actors in preventing violence and in supporting women and girls who have been abused.
Systematic efforts to address sexual violence in conflict situations and to protect women and girls from rape as a tactic of war, and the full implementation of related laws and policies.
For news and action alerts, please sign up here!
"Violence against women and girls is a human rights violation, public health pandemic and serious obstacle to sustainable development. It imposes large-scale costs on families, communities and economies. The world cannot afford to pay this price."

Ban Ki-moon, UN Secretary-General
Sources: UN WOMEN