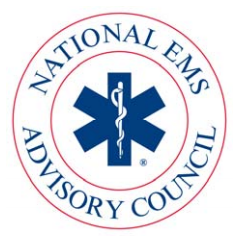 Save the date! - NEMSAC Meeting Announcement Brought to you by NHTSA's Office of EMS
Register Now: NEMSAC Meeting December 1st & 2nd
The National EMS Advisory Council (NEMSAC) invites you to attend its next meeting where members will vote to approve the final drafts of numerous advisories from the NEMSAC committees. If you would like to submit public comments on the advisories or register to attend the meeting, please do so by December 1.
Meeting Details:
Location:
Washington Hilton
1919 Connecticut Ave NW
Washington, DC 20009
Agenda

Reports and updates from the Departments of Transportation, Homeland Security, and Health & Human Services
NEMSAC Committee Updates and Discussion
Vote on Final Drafts of Advisories
The full agenda is available online
Consideration of Committee Recommendations
Public comment on the final drafts of numerous advisories is requested by the NEMSAC. The final drafts will be available under the meeting materials section. Below are the NEMSAC committees:
Funding and Reimbursement
Innovative Practices of EMS Workforce
Data Integration and Technology
Patient Care, Quality Improvement and General Safety
Provider and Community Education
Ad Hoc Committee on Recognition of EMS Personnel Licensure Interstate Compact (REPLICA)
Ad Hoc Committee on EMS Scope of Practice Model & Administration of Narcotic Antagonists
Public Comment
Members of the public are invited to provide comment directly to the NEMSAC on matters relating to EMS during public comment periods on both December 1 and 2. Written comments may be submitted to NHTSA's Office of EMS no later than November 25, 2016 by emailing NEMSAC@dot.gov or sending a fax to (202) 366-7149. All emailed comments will be distributed prior to the meeting to aid in the discussion.