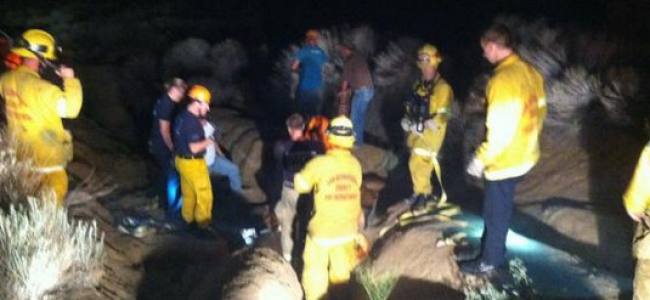 Animal rescue: Horse saved into a ravine in San Bernardino
(SBSUN) – A horse that fell into a ravine was rescued by the San Bernardino County Fire Department and the Rancho Cucamonga Fire Department Tuesday evening.
At about 7:49 p.m., County Fire received a call regarding a horse in distress and sent a full rescue response unit to the scene with 20 firefighters. They arrived at the southern end of Alta Mesa Road, near the border of Hesperia and Oak Hills.
"We found a horse that had basically fallen down and it was trying to come out of a ravine or gulley and as it was climbing, it lost its footing and slipped into a trench, roughly three to four feet deep," said Jay Hausman, spokesman for County Fire. "It's like if you're driving on a dirt road going downhill and then have it wash out in the middle and create really nasty ruts that were three to four feet deep — that's what we were dealing with."

Hausman said the horse was trapped upside down, but the rider was not injured and had jumped out off the horse when it slipped. The rider, a male resident of Hesperia, stayed with the horse throughout the rescue process.
Rancho Cucmonga Fire Department was called to the scene after about 30 minutes because of its horse unit, with firefighters and equipment specialized in rescuing horses or large animals, Hausman said.
"When they got here, a game plan was developed and through sheer manpower of over 25 rescue personnel, we used the specialized equipment and manpower to get the horse on its side and pull the horse down out to a flat area to a dirt road," Hausman said. "The horse is very heavily sedated because of the rescue for its own safety and the firefighters' safety. We have a vet on scene who is assessing the situation, but we have to wait a little before a full evaluation can be conducted."
After the horse was rescued from the ravine, the sedatives wore off, allowing the horse to be led into the owner's trailer at about 11 p.m. and taken back to its home shortly afterwards.