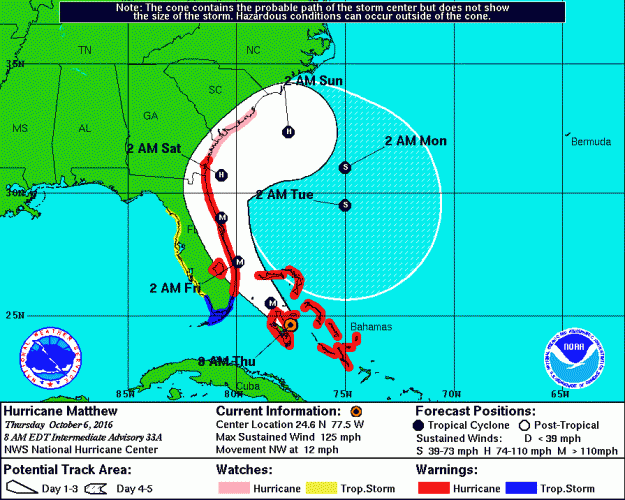 Hurricane Matthew, 3mln people's evacuation
Some three million people on the US southeast coast faced urgent evacuation Thursday as monstrous Hurricane Matthew — now blamed for more than 100 deaths in Haiti alone — bore down for a direct hit on Florida.
Highways in Florida and neighboring states clogged up with people streaming inland to escape the storm blasting in from the Caribbean, as officials warned people tempted to ride it out they may be risking their lives.
President Barack Obama declared a federal state of emergency in Florida as it braced for the ferocious Category Four hurricane, expected to bring beach-eroding waves as tall as two-story buildings and winds strong enough to snap trees and blow away roofs or entire houses.
Poor and vulnerable Haiti remained essentially cut in half two days after Matthew hit. Interior Minister Francois Anick Joseph said at least 108 Haitians have died, with 50 killed in a single town and reports of "complete destruction" in the island's south.
In its latest target, the storm slammed the Bahamas Thursday, blowing off roofs, downing trees and knocking out power. Weather forecasters working out of Nassau airport had to flee for their lives.
According to the forecast track, the hurricane could make landfall in the United States near Cape Canaveral, where NASA's Kennedy Space Center is located, by Friday morning.
As US gas stations ran dry, frantic shoppers flocked to stores for essentials.
They snapped up batteries, transistor radios, bread, canned goods, bottled water, ice and pet food to gird for what Florida Governor Rick Scott warned would be a devastating, killer storm, with winds howling at up to 150 miles (240 kilometers) per hour.
"Evacuate, evacuate, evacuate," he told a news conference. "Time is running out."
The region's strongest storm in years, Matthew regained power as it swirled toward the US coast, upgraded a notch to Category Four Thursday by the National Hurricane Center on its 1-5 scale.

Some 1.5 million coastal dwellers are under an evacuation order in Florida alone. More than a million others in South Carolina and other coastal states were also told to escape the path of the storm, which first made landfall in Haiti Tuesday.
Mandatory evacuations were also ordered in six coastal counties in Georgia that are home to some 520,000 people.
Some 6,000 US Marine recruits were evacuated from a base at Parris Island, South Carolina.
Miami International Airport canceled 90 percent of its incoming and outgoing flights on Thursday and Walt Disney World — in Orlando, 35 miles inland from the Atlantic — was to close early on Thursday and stay shut Friday.
President Obama's emergency decree frees up resources to help Florida and authorizes the federal government to coordinate relief efforts.
Obama spoke with the governors of Florida, Georgia, North Carolina and South Carolina, pledging to provide them with all necessary federal resources to cope with the storm.
Both presidential candidates sent out messages of support to those affected, with Republican Donald Trump saying "Please stay safe" while Democrat Hillary Clinton urged people to heed evacuation orders, tweeting: "Stay safe Florida."
The National Hurricane Center said waves whipped up by the hurricane could reach as high as 18 feet (5.5 meters) — nearly as tall as a two-story building. Debris tossed into the air will be capable of blasting through buildings and cars, the NHC said in a bulletin.
Scott said the forecast is for storm surges of five to nine feet (1.5 to 2.7 meters), not counting the waves on top of that.
Power outages, possibly lengthy, are a near certainty.