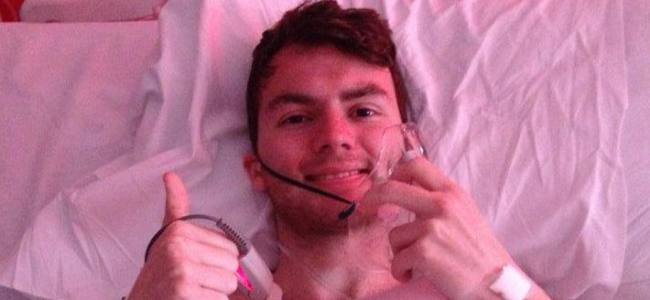 Stephen's Story will never end: New project to fight cancer is online
"My original goal was to become a doctor". This is the beginning of the video (published by BBC) about Stephen Sutton, the teenager who raise £5 millions speaking all around the world about cancer, the disease which Stephen had battled since he was 15. Stephen die in may, 14, 2014, after launching his last appeal to support the Teenage Cancer Trust. Now, the plans for spending the biggest part of the amount have been revealed.
The project is to spent £2.9m – of the £4.96m raised through donation – in specialist cancer units for young people in 7 Hospital in England and Scotland.
Edinburgh: A four-bed Teenage Cancer Trust (TCT) unit for 16 to 24 year olds will open at the city's new Children's Hospital. Stephen's Story will contribute £360,000.
Glasgow: A contribution of £270,000 will complete a £500,000 fundraising bid launched last year for a six-bed TCT unit for 13 to 16 year olds at the new Southern General Hospital.
Liverpool: Stephen's Story will contribute £317,400 towards a new TCT unit at Alder Hey in the Park. This will leave £150,000 to be raised locally to hit the target of £600,000 by April 2015.
London: The Trust said its 18-bed unit at University College Hospital was in "desperate need" of refurbishment. A £168,000 donation will add to £192,000 already raised by other supporters to enable work to be completed.

Nottingham: Stephen's Story will contribute £815,000 to create a new unit at the Queen's Medical Centre and improve its facilities at City Hospital.
Oxford: A £60,000 contribution will be made towards a new unit at the John Radcliffe Hospital.
Sheffield: Stephen's Story will invest £144,000 in improving and updating a five-bed unit at Weston Park Hospital.
The trust said the remaining £2.9m would be allocated at a later date.