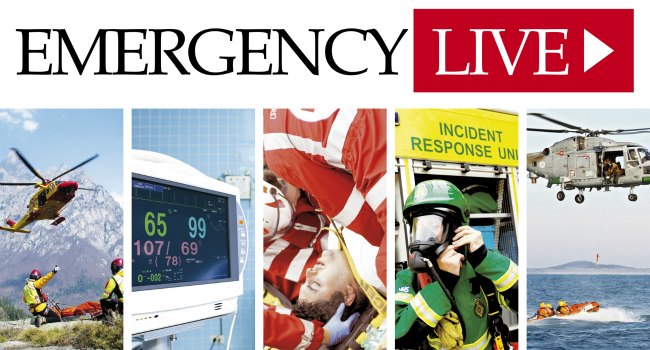 The Southern California Wildfires of May 2014: Implementation of the Incident Command System
Cassie Majestic, MD
Kristi L. Koenig, MD
Photo Credit: Tony Coppolino Fire Chief, Fountain Valley Fire Department

University of California, Irvine
Center for Disaster Medical Sciences

Wildfires are an annual expected disaster in Southern California due to the intense heat, drought, and powerful winds. While wildfires can be classified "natural" disasters due to their prompting by lightning, sparks from rock fall, or spontaneous combustion, they are frequently not a natural occurrence. Human activity is commonly involved in wildfires and involvement includes arson, sparks from equipment, cigarette sparks, campfires left burning, and the effects of deforestation and global warming.
The heat wave and severe Santa Ana wind conditions in early May 2014 caused an eruption of wildfires in San Diego County including Carlsbad, Oceanside, San Marcos, and areas of Camp Pendleton, a military base. The aftermath of the fires in San Diego County included evacuation for thousands of people, loss of property, injuries, and one documented fatality. In addition to direct damage from the fires, they indirectly prompted health advisories in both Orange and Los Angeles counties secondary to emission of significant amounts of smoke. Only recently have firefighters been able to contain the wildfires that burned across California in early May, part of this success due to the onset of cooler temperatures. While some of the fires have been deemed accidental, others are still under investigation.
A little known fact is the origin of the Incident Command System (ICS)– a critical tool for the management of a large scale threat such as a wildfire in a densely population area. FIRESCOPE, or FIrefighting REsources of Southern California Organized for Potential Emergencies, is a system that was developed in 1972 after a massive set of wild fires in the Southern California region that led to the need for resources from multiple jurisdictions. This program is designed to improve efficiency and arrangement of various fire services when responding to disasters. The primary organization of FIRESCOPE is to provide mutual aid, and facilitate cooperation between multiple fire stations and personnel. The concept of mutual aid involves an incremental system of mobilization of resources. Specifically, additional fire services are mobilized to the area in need without severe depletion of rescue defenses outside the disaster area. Typically this mobilization occurs in ascending order from local to county to region to inter-region. A large portion of the program includes the ICS, which is a flexible system that helps coordinate procedures for those on-site, and aids in control of the operations. The occurrence of such a disaster therefore provides a unique opportunity for firefighters, healthcare workers, and law enforcement personnel to work together in organizing a plan of resolution.
With a well-rehearsed ICS in place such as is the case in Southern California, wildfires are much more manageable. The ICS includes procedures for accepting mutual aid and allows for appropriate organization and communication during a time where many personnel are needed for successful disaster management.