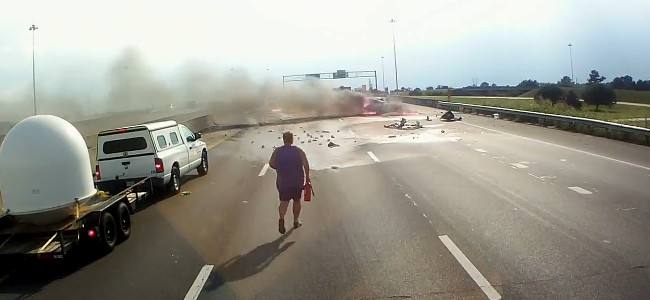 Trucker Hero Rescues Family After Crash and Explosion
Trucker David Fredericksen uses a fire extinguisher to fight a raging fire after a Lincoln carrying a woman and her one year old granddaughter crashed in Biloxi, Mississippi on August 11th, 2014. David's son posted the dash cam video on Youtube with the following comments:
"The time shown on the video is wrong, this happened monday, august 11th 2014. A car t-bones a semi truck on I10 near Biloxi, Mississippi. The car struck the fuel tank of the semi causing a large fire ball. The doors of the car were jammed shut and the driver suffering a broken leg and could not exit the vehicle.
Luckily my father had a fire extinguisher on hand to fight back the flames and give enough time to pull the driver and her 1 year old granddaughter out of the flaming vehicle. Once the passengers are free from the vehicle the flames rapidly grow in strengthconsuming the vehicle.

Thankfully my father had the presence of mind, bravery, and forethought of carrying a fire extinguisher, to be the first person on scene to risk his own life in order to possibly save another and to inspire others and lead them into taking action. Everyone involved in the rescue effort is a hero in my books.
The police and fire department responded within minutes of the accident and also deserve praise. Remember to treat truck drivers well as they are often the first responders in automobile accidents.
Everyone involved was okay, the driver of the vehicle suffered a broken leg and all others had only minor injuries. My father said he was surprised he was the first one there while everyone else stayed in their vehicles. It takes a huge amount of bravery to be the first to lend a hand. My guess is most people were hesitant to help because they figured the occupants could not have survived. When he went to pull the child out of the car the smoke made it very difficult for him to breathe and his only thought was getting the child out of the vehicle."
http://youtu.be/dgQ2QCxSV10