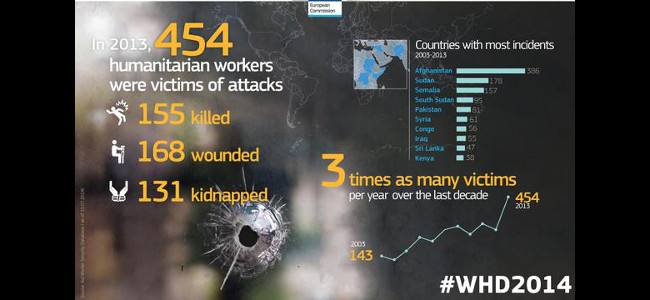 World Humanitarian Day: remember the 454 victims of attacks
BRUXELLES – Today's World Humanitarian Day is an occasion to pay tribute to humanitarian workers who risk their lives in bringing assistance to victims of wars and natural disasters worldwide. It is a time when we commemorate all those who were target of attacks and as a result were wounded, kidnapped or even killed. It is an opportunity to reiterate the importance to respect international humanitarian law (IHL).
The EU promotes global respect for and compliance with IHL through advocacy and political measures such as dialogues, statements and initiatives, as well as with humanitarian funding to ensure humanitarian access, wider dissemination and training in IHL. Recent figures on attacks worldwide show an alarming trend in the number of aggressions involving relief workers. In 2013, over 450 people were attacked, of whom over one third were killed. The risk to a humanitarian worker's life has increased four-fold in ten years. If the level of insecurity forces aid organisations to suspend operations or pull out of a dangerous region, millions of vulnerable people are left without essential support.

ECHO is promoting World Humanitarian Day also on social media. Join us today for a Twitter Chat at 15:00-16:00 to be followed by a Google Hangout at 16:30-17:30 which will be broadcast on the window below.