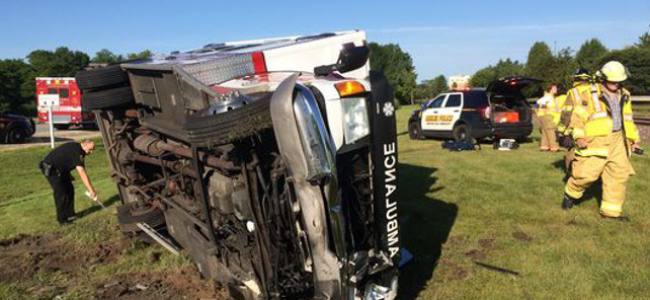 Ambulance crash in Sheboyang County - VIDEO
(Sheboyang, Wisconsin) – The driver of the ambulance was cited for failing to operate safely as an emergency vehicle operator. The woman in the car was cited for failure to yield to am emergency vehicle. That's the conclusion of a terrific accident that happen in the Sheboyang County, Wisconsin.
SheboyangPress report that the woman were injured in Thursday's crash pulled out from her stop sign because she thought the ambulance coming toward her would also stop, according to an accident report released Friday by the Kohler Police Department.
The name, age and hometown of the woman were redacted from the report, but the incident narrative states that she stopped at the four-way stop at Highway A and Highway PP, and then pulled into the intersection because she thought the ambulance coming toward her on Highway PP would stop despite its lights and sirens.

In a video of the crash, which was taken by Kohler Co. cameras and released along with the report, the ambulance plowed into the passenger side of the car and rolled over, coming to rest on the northwest corner of the intersection.
The woman was flighted to Theda Clark Hospital in Neenah. One of the paramedics in the ambulance sustained minor injuries and was treated and released from St. Nicholas Hospital in Sheboygan.
According to information released by Orange Cross Ambulance on Thursday, the rig was westbound on Highway PP about 6:55 a.m. with lights and sirens, responding to a 911 call for medical assistance.