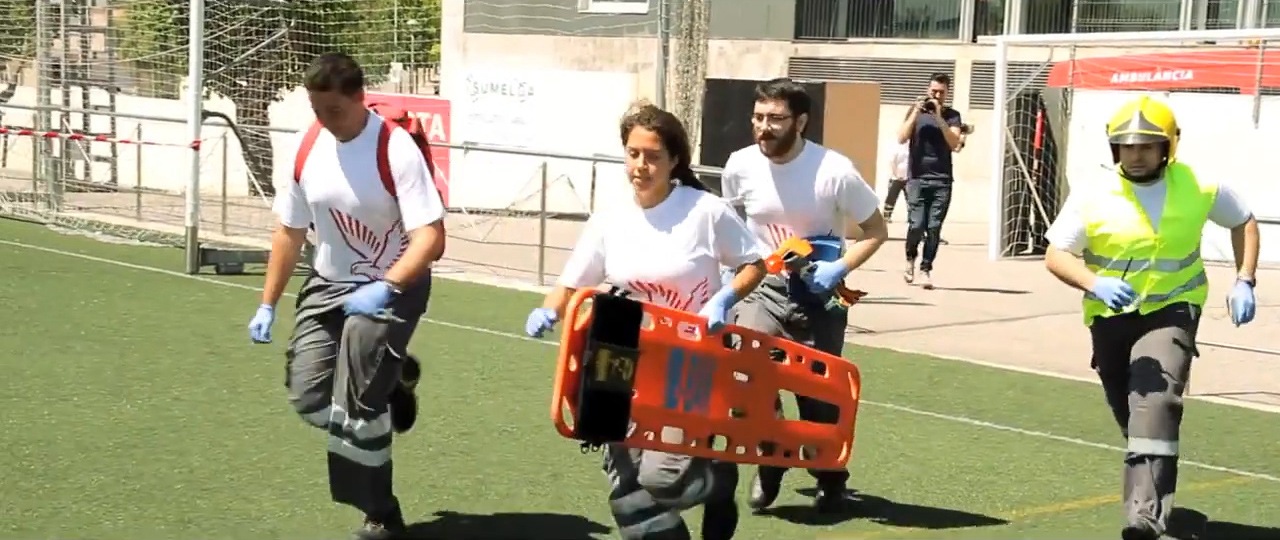 Ambulance Life, TOP 5 job position in Europe and far away
Every week Emergency Live will show you 5 new job position for ambulance professionals. Are you looking for a new ambulance provider? Want to change your town? Here we are with 5 simple tips!
Are you looking for a new job? Every day EMS and rescue professional can find online new ideas for getting a better life, improving their jobs. But if you need some suggestions for keeping your skills in service for another kind of job, involved in the EMS or in the industrial business around the health sector, here we are!
Emergency Live will show you every week some of the most attractive position in Europe about EMS and rescue activities. Are you dreaming of operating as a paramedic Zermatt? Would you like to see every day the beautiful heritages of Rome driving an ambulance? (No, really, you don't know what it is driving an ambulance in Rome!)
Well, we show you the TOP 5 job position you can reach directly with our links to Indeed.com!
LOCATION: Italy – Parma
Spencer EMS, Junior Business Development Manager

"We are looking for an ambitious and energetic Business Development Manager to help us expand our clientele. You will be the front of the company and will have the dedication to create and apply an effective sales strategy. The goal is to drive sustainable financial growth through boosting sales and forging strong relationships with clients.

Responsibilities: Develop a growth strategy focused both on financial gain and customer satisfaction, Conduct research to identify new markets and customer needs,Arrange business meetings with prospective clients,Promote the company's products/services addressing or predicting clients' objectives,provide trustworthy feedback and after-sales support, Build long-term relationships with new and existing customers, Develop entry level staff into valuable salespeople

Requirements:Proven working experience as a business development manager, sales executive or a relevant role, Proven sales track record, Proficiency in MS Office, Market knowledge, Communication and negotiation skills, Time management and planning skills.
LOCATION: UK – London
Ambulance Directory of Services Project Officer
The Directory of Services (DoS) Team (part of Central Analytics – Client Services) is responsible for maintaining and developing the NHS Pathways DoS for our Clinical Commissioning Group (CCG) customers. We cover North Central London, North East London, South East London and South West London. In addition, we also cover Northamptonshire (Nene and Corby CCGs) and Milton Keynes.

The post holder will work as part of the DoS Team to support NEL CCGs/STP with improving LAS access and utilisation of Appropriate Care Pathways (ACPs). In addition, the post holder will get involved with and support other key dependencies that relate to urgent and emergency care.

We are looking for somebody who is outgoing and confident at communicating with stakeholders and healthcare professionals, in particular ambulance crews.

This role will require a high level of autonomy and the ability to benchmark and report against progress to stakeholders.

This role will predominantly be based out of the 6 ambulance bays located at the Emergency Departments across NEL. Office base is Clifton House (near Liverpool Street).
LOCATION: France – Salon de Provence
R.A.S. Ambulance service support specialist
R.A.S. n'est pas une entreprise de travail temporaire comme les autres : nous sommes à votre service 7 jours/7 et 24 heures/24 sans interruption. Nous assurons un recrutement spécifique et urgent adapté à votre situation. Un recrutement en CDI, CDD ou Intérim pour un profil spécifique ou urgent à effectuer ? R.A.S. et son équipe de permanents, formés aux métiers qu'ils délèguent, apporte une réponse immédiate et adaptée, à n'importe quelle heure du jour et de la nuit, aussi bien en semaine que les week-ends et jours fériés. Découvrez l'intérim autrement avec R.A.S. Intérim et Recrutement. 50 ans d'expérience et un service 24 heures/24 et 7 jours/7 unique font toute la différence. R.A.S.
L'agence R.A.S. Intérim de Salon de Provence, recherche pour l'un de ses clients des Auxiliaires Ambulanciers H/F.

Vos principales missions seront de :
– Assurer, sur prescription médicale, le transport des malades auprès des établissements de soins ou de raccompagner les patients à leur domicile, au moyen de véhicules spécialement adaptés (VSL)
– Accompagner l'ambulancier et assurer le suivi du dossier patient lors de missions en ambulance.
– Assurer un bon relationnel entre les différents acteurs (patient, professionnels de santé, employés administratifs…).
– Remplir et tenir à jour les différents documents et le dossier de transport.
– Installer le patient et surveiller son état durant le trajet. – Participer à l'entretien courant du véhicule et du matériel : lavage extérieur et intérieur, désinfection, remplacement de la literie, vérification du matériel de premiers secours, surveillance mécanique du véhicule sous la responsabilité de l'ambulancier.
LOCATION: Spain – Tarragona, Barcelona
Emergency Medical Tecnician (T.E.S.)
The Ambulancias Civera service is requiring an Emergency Medical Tecnician with ambulance driving licence for a full employment as EMT and ambulance driver in Tarragona.
Se precisa Técnico/a de Emergencias Sanitarias para realizar funciones como:
Verificar el funcionamiento básico de equipos sanitarios y del vehículo, aplicando los protocolos de comprobación.
Controlar y reponer las existencias de material.
Atender las necesidades de movilidad y transporte de pacientes, víctimas y familiares, garantizando su privacidad.
Trabajar en equipo, respetando la jerarquía en las instrucciones de trabajo.
– Imprescindible Grado Medio Técnico Emergencias Sanitarias.
– Carnet de conducir B, en vigor(exp. mínima de un año) y vehículo propio
Zona de trabajo: Tarragona
Imprescindible residencia Lleida o cercana.
Tipo de puesto: Jornada completa, Beca / prácticas, Recién graduado, Indefinido
Tipo de puesto: Jornada completa, Beca / prácticas
Experiencia: carnet de conducir 1 año (Requisito mínimo)
LOCATION: Australia – Rockhampton, Queensland
Manager Operations Centre
Queensland Ambulance Service
(
Organisation site
)
State Operations Centre; Local Ambulance Service Network; Rockhampton
The Manager, Operations Centre is a key operational role in the QAS, with a primary focus on caller engagement.

The role encompasses all facets of the call taking and dispatch functions, customer service and resource deployment models; whilst accounting for the broader concepts involved in dynamic resource deployment.

The role is responsible for all aspects of operational service delivery and performance within the Operations Centre, to ensure the QAS can effectively meet service delivery needs, standards and business objectives.

The following mandatory requirements, special conditions and/or other requirements apply to this role: 

Applicants must have a Diploma of Health Science (Pre-Hospital Care) or a Certificate IV in Ambulance Communications – Dispatch; or equivalent qualifications, as deemed appropriate by the Commissioner QAS.
Applicants are required to hold an open Queensland "C" Class Driver's Licence (for a manual motor car) prior to the closing date for applicants.  Interstate and international applicants must hold an equivalent licence at the time of applying and will be expected to obtain a Queensland Driver's Licence upon appointment.
It is an express condition of employment for all people who are to perform roles with direct patient contact, to be, and remain, vaccinated against the following infectious diseases during their employment, as specified within the QAS Infection Control Framework: Diphtheria, tetanus, pertussis (whooping cough); Hepatitis B; Measles, mumps, rubella (MMR); Varicella (Chickenpox); Influenza; and Tuberculosis.
Whilst not mandatory, tertiary or postgraduate qualifications in a business-related discipline and completion of an appropriate management/supervisory training course will be highly regarded.