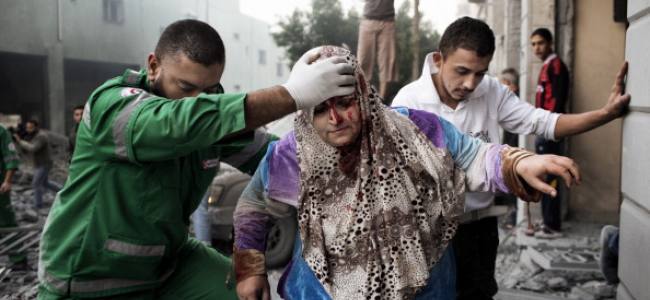 Be a paramedic in Gaza, the Ibrahim Abuelkas story on Al Jazeera
GAZA CITY (AL JAZEERA) – Ibrahim Abuelkas is eight hours into his 24-hour shift, and every minute is filled with new risks. Suddenly, the 35-year-old gets a signal from his colleague Saed Zaineddin — the emergency phone call operator — and the red and white ambulance is off again.
There is not much talking on the way to the location, as Abuelkas says he is "entering the unknown." Abuelkas and his driver use body language and gestures more than words. Within a few minutes, they are driving side-by-side with another ambulance, also headed to the city's al-Zaytoun neighborhood.
Abuelkas does not know what exactly to expect when he steps out of the van. The moment he arrives, people run towards him, screaming, "Ambulance, come here, come here!" The people here expect another Israeli airstrike to hit at any minute, and they are frantically trying to evacuate the women and children.
The ambulance driver quickly navigates through the crowd, lights flashing, to assist a number of residents that have been injured by an Israeli bomb. "Usually we travel in ambulance pairs to the same location to assist as much as possible," says Abuelkas, as the ambulance sirens wail.

The injured are helped into the back of the ambulance, which then rushes towards the al-Shifa hospital. The moment it arrives, the Operational Rescue Team opens the ambulance doors to offload the patients, who are taken on stretchers to reception and triage.
The workers clean the ambulance, check that supplies are stocked, and take a brief rest with other ambulance crews until the next call comes in. Then, it's time to move again, this time to another part of Gaza.