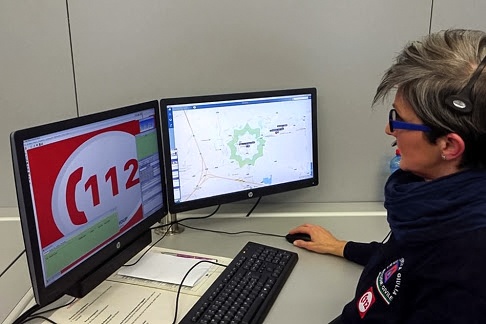 Contagious coronvirus: what to say if you call 112 for suspected covid-19 infection
We understood that coronavirus is contagious and every corner of the world must be prepared and well aware of this. Most of all, it is important for everyone to know how to say to EMS dispatchers when you call them and you suspect a covid-19 infection.
In these days, Italy is shaken by this unexpected and unpredictable health emergency. We are obviously referring to the coronavirus or covid-19. The numbers of the operational centers 112 are really hot for the many calls of Italian citizens, who are worried about what is going on, even before the appearance of symptoms.
Let's start from an assumption, which is a good thing everyone learns: for Italy only, the public utility number for coronavirus is NOT 112, or 118, but 1500.
12/118 is a number that should be used only if you need an ambulance or emergency medical intervention without exception. Many regions have set up their own dedicated number: this is the link to a page of the Italian Ministry of Health. The list is, of course, updated.
But if the situation requires calling 112, or where the guidelines have not yet been established, what do you should say to the dispatcher on the other side of the phone in order to have an easy and quick response?
This article has been written in "red area" as if Parma is categorized as a red area from Sunday night. That's why we interviewed the inspector of the Polizia Municipale (Police) of Parma (Emilia-Romagna), who is now precisely detached from the emergency response center in Parma, Debora Veluti.
Contagious coronavirus: we take this opportunity to thank Debora very much for this list.
When you call an emergency response center, what do you need to say?
Who are you
Where are you calling from (City, address, neighborhood)
What happened
Where it happened (city, precise address, neighborhood of reference)
How many people are present / affected by the problem
It is really important that a normal citizen understands the importance of calmly answering the questions asked by the dispatcher: he/she is not doing the interrogatory. He/she must be able to better identify the problem, and the only description is the citizen who is speaking through the phone.
Therefore, it also becomes important:
Provide your telephone number (to be called back if the line drops)
Indicate the place of the event (town, street, house): it may not correspond to the place of the call. Think, for example, of a crossroad accident while in the car.
Explain what happened (illness, accident, sudden fainting, etc.) and report what you see or what you have seen, if you have witnessed the fact
Communicate the conditions of the person involved: he responds, breathes, is conscious, bleeds, reports of pain, is confused /, does not remember and so on.
Communicate particular situations: small child, pregnant woman, elderly person, a person who speaks in a foreign language or does not express himself at best, person with known diseases (heart disease, asthma, diabetes, epilepsy, etc.) or perfect unknown never seen before but in need of help
Contagious Coronavirus / Covid-19: what to do and what not to do
WHAT TO DO?
Fundamental: keep calm, speaking as much as possible in a clear and marked tone
WHAT NOT TO DO?
DO NOT panic
DO NOT clog the dedicated emergency lines for information that can be obtained on other lines