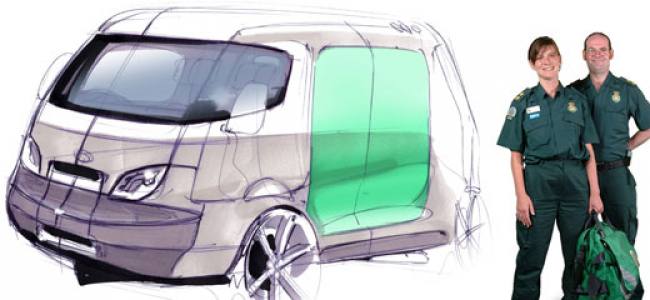 Emergency Ambulance Redesign: a user centred approach (PART 1)
Article by Gianpaolo Fusari  (READ THE PART 2)
When starting to think about designing a new ambulance we had to ask why was this even necessary. The answer to this question doesn't take very long to emerge. If you were to have a look at your local A&E ambulance bay, you would think that the vast number of ambulances you are likely to find there equates to a fine-tuned service that dispatches patients to the place where their ailments can be treated. But what if treatment could be delivered to patients instead of delivering patients for treatment?
This is not a rhetorical question; it is in fact a question that the UK's National Health Service (NHS) has been trying to answer for some time now. Undoubtedly, many emergency departments are struggling to handle the increase in demand from patients, especially those who are not attending for a life-threatening condition. National statistics show that in the past 15 years there has been a 47% increase in emergency admissions. But a closer look reveals that non-emergency A&E attendances have increased at a rate of 11 times higher than the population rate increase. In other words, the vast majority of people who go to A&E are presenting minor complaints that could be treated elsewhere.
In the context of the NHS ambulance service, the 4.7 million patients conveyed to A&E during 2009-10 represented around 22% of the total A&E attendances. Research at the Helen Hamlyn Centre for Design (HHCD) at the Royal College of Art has found that up to 60% of emergency calls in the UK do not need the patient to be transported to hospital. These patients could be better managed at scene or in alternative primary care facilities, thus relieving pressurised A&E departments and hospital wards from unnecessary admissions.

But why, then, are these patients being transported to A&E? Staff resources and training, equipment, vehicles and treatment protocols all play a significant role to answer this question.
Our 2007 study 'Smart Pods', through a systems-wide lens, uncovered the multiple factors that could enable more patients to be treated out of hospital. The study highlighted key problems with equipment and vehicles that could be addressed through better design and defined an integrated pre-hospital healthcare system combining standardised kit packs, different vehicle types, diagnostics and communication equipment, and new staff roles to bring healthcare into the community.
Smart Pods led us to begin redesigning the emergency healthcare system starting with one of its fundamental building blocks: the box ambulance.
——
Gianpaolo Fusari holds a joint MA/MSc in Innovation Design Engineering from the Royal College of Art and Imperial College London. His work at the Helen Hamlyn Centre for Design and the recently created HELIX Centre focusses on people-centred design in healthcare. Gianpaolo employs advanced user-research tools to derive evidence-based design briefs to work with users and stakeholders to design, evaluate, develop and commercialise cost-effective solutions. Fusari has worked in award-winning projects such as: the redesign of the UK Emergency Ambulance, design initiatives to reduce violence and aggression in Emergency Departments and has worked alongside global healthcare industry leaders such as ArjoHuntleigh and DePuy Orthopaedics.