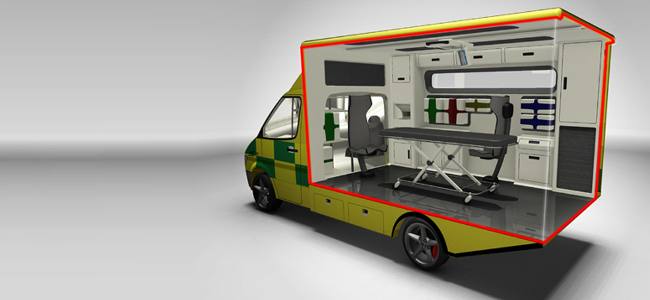 Emergency Ambulance Redesign: a user-centred approach (PART 2)
EMERGENCY AMBULANCE REDESIGN PART 1
Article by Gianpaolo Fusari 
For the past 30 years, ambulances and the service they provide has been focused on transporting patients to hospital with little treatment in between. But the science and thinking behind emergency medicine has evolved significantly. The changes in paramedic practice and the dramatic increase of service demand has not been completely reflected on the service, let alone the vehicles.
Thinking of problems with ambulances in particular, their layout and storage makes them difficult to clean and stock. Furthermore, there is no standard ambulance design so paramedics have to work in different interiors from day to day. In current layouts, the stretcher is positioned towards one side of the vehicle, making it difficult to access the patient on all sides. Storage of equipment and consumables make it difficult to access them quickly and can pose a safety risk for patients. From the patient's perspective, riding an ambulance can be an intimidating experience as they are poorly lit, cluttered and cold.
Our starting point for understanding how to approach this complex system was to spend time with clinicians on ambulances during 12-hour shifts, observing them in action, asking questions and learning from them. Working with different crew compositions at different times of day allowed us to acquire a wide range of perspectives.
This immersive approach is characteristic of the work we do at the HHCD, where the majority of our people are trained as designers. We rely on a tight collaboration between ourselves and the stakeholders of the system we're designing for in order to go through a design process that eventually leads to truly co-designed solutions.
The co-design process we went through can be roughly mapped in the following stages and activities:
Discover:
Real-life observations on ambulance shifts
Stakeholder interviews
Scenario role playing at project lab space
Define
Mapping different modes of use
Brainstorming potential alternative modes
Equipment and consumables audit
Design brief definition
Develop
Alternative ergonomic layout exploration
CAD modelling
Test rig development and physical modelling
Clinical scenario test definition
Testing the design with ambulance crews

Deliver
Design evaluation and iteration
Prototype refinement and development
Testing
Between the Develop and Deliver stages, there is an iterative process of 'evaluation-redesign-build' aimed at improving the design through what we learn from testing it. Our process took us through this cycle three times before developing a final Demonstrator Unit featuring a completely redesigned treatment space with the following improvements:
–         A central stretcher giving clinicians 360° access to the patient for safer, more efficient treatment.
–         A "working wall", placing all equipment and supplies ergonomically on one side of the vehicle.
–         Activity-specific modular treatment packs, e.g. dressings, cannulas, airways and oxygen kit, burns and maternity packs, loaded before each shift.
–         A Digital Diagnostics and Communications system to monitor and log real-time patient vital signs, provide remote access to patient records, video link to hospital specialists, transmit vital signs and handover information directly to the hospital while en route, and enhance navigation. It provides three screens: one in the driver's cab, a mobile monitor for positioning conveniently where the paramedic is working on the patient, and a detachable screen for administrative work on and off the ambulance.
–         An easy-clean interior, avoiding dirt-attracting corners and crevices, that has better lighting and ambience and is less intimidating for patients and relatives.
–         Hand-cleaning facilities, storage for personal belongings and a coolbox to keep staff lunches fresh.
Feedback from industry was very positive after testing and comparing the new design with the existing London ambulance. Our new treatment space allowed clinicians to achieve significant improvements in treatment efficiency and infection control. Financial modelling on the new design shows that around £40 million could be saved across the UK if emergency calls that don't need to go to hospital were reduced by only 2%.
So far the Demonstrator Unit has been evaluated by UK's ambulance services but our current work is looking at expanding our reach to cross-European ambulance services and manufacturers. Our efforts are focused on establishing a EU development process that will allow us to co-design and evaluate a small fleet of vehicles that are fit for practice in the 21st century. Ambulance crews and patients across Europe will hopefully benefit from the new design resulting from this collaboration process in the near future.
——
Gianpaolo Fusari holds a joint MA/MSc in Innovation Design Engineering from the Royal College of Art and Imperial College London. His work at the Helen Hamlyn Centre for Design and the recently created HELIX Centre focusses on people-centred design in healthcare. Gianpaolo employs advanced user-research tools to derive evidence-based design briefs to work with users and stakeholders to design, evaluate, develop and commercialise cost-effective solutions. Fusari has worked in award-winning projects such as: the redesign of the UK Emergency Ambulance, design initiatives to reduce violence and aggression in Emergency Departments and has worked alongside global healthcare industry leaders such as ArjoHuntleigh and DePuy Orthopaedics.