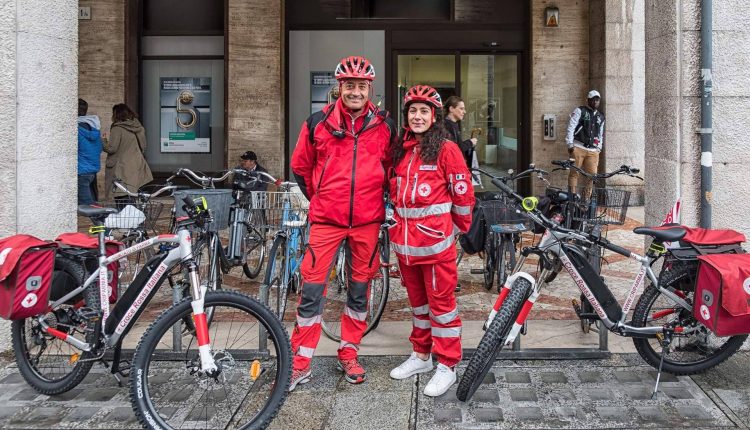 Is a bicycle ambulance a good solution for urban first aid?
Bicycle is an evolution trend for giving help to people in congested areas. But is it the right solution for everyone? We try to explain when you can choose a bicycle ambulance and when you need something different.
A cycle response unit is a crew of two or more paramedic equipped with bicycles that can operate as a frontline response to ordinary emergencies in a town centre. When traffic congestion, pedestrian areas and crowds of people can make it difficult to reach a patient, Ambulance Services and dispatch centre can organize a small service operating on a bicycle ambulance.
They are the Cycle Response Unit, fully trained to work as an immediate response in busy areas, to fill the gap between a call and the arrivals of an ambulance. Usually, on the bicycle ambulance, there is a paramedic, but in some regions, the CRU can operate with volunteers and first responders.
The professionals or the volunteers are trained to operate in a stand-alone situation for an average time of 30/40 minutes, and they have all the equipment to save a patient's life. Paramedics on the bike can reach patients quickly and start to give life-saving treatment while an ambulance is on the way. For example, the bicycle responders in London have equipment designed to enable them to respond to emergency calls: a custom-built bicycle, medical kit and specialist clothing West End, Heathrow Airport, Kingston town centre, the City of London and St Pancras are covered by this unit, an additional service which combines the ordinary ambulance response with cars, ambulances and bikes.
What kind of bicycle ambulance do you need for a first response service?
After many times spent on standard Mountain Bike (i.e. the Specialized Rockhopper mountain bikes fitted with blue lights and a siren of the NHS in London) the new generation of bicycle ambulance for first response unit is built on e-bikes. That bikes are not so lightweight as previous, but they have more efficiency, speed, and transport capacity. Light, sirens, bags with AED and BLS equipment and radio are the primary device that a bicycle ambulance must have to operate correctly.
What kind of Medical device do you need on a bicycle ambulance?
The cycle responders' kit is very similar to a standard BLSD equipment that we can found on ambulances, without electro-medical instruments and transportation devices. As for the fast response unit on car, or the motorcycle response units (MRU), you need to have:
Defibrillator
Oxygen
Pulse oximeter monitor
Blood pressure device
Adult and paediatric BLS kit (bag, valve, mask, ecc..)
Small bag of drugs like (for Paramedic and Professionals)
Bandages and dressings
Rubber gloves
Cleanses
Soft splint
Ice pack
Burn pack
Specialist clothing for the first responders
The uniform of paramedics or first responders that operates on the bicycle ambulance must be a little different by the standard ones. NHS, for example, has designed a special uniform that includes helmet, gloves, glasses, reflective jacket, trousers (shorts for warmer weather), waterproofs, cycle shoes, base layers, padded undershorts, skull cap, anti-pollution mask, protective body armour, utility belt, a radio, and mobile phone with Bluetooth headset.
Facts about the cycle response unit in Greater London by the NHS Ambulance Service:
Cycle responders attend approximately 16,000 calls a year.
They resolve over 50 per cent of all incidents at the scene.
Their average response time to calls is six minutes.
They can cycle 100km in a single 10/12-hour shift.
Operating as a first responder on a bicycle is not a simple process. This is the reason why EMT, Paramedics or volunteers usually need to do training for riding the bike properly. Some organizations operating cycle responders offer specific training to staff or volunteers undertaking the role. They may use their own guidelines or conform to an external standard, such as Bikeability or the International Police Mountain Bike Association (IPMBA) guidelines. Training may cover areas such as hazard avoidance, observation, how to manoeuvre in low-speed areas, traffic, safety and crowds.