Lightning strikes kill - Emergency on Tatra Mountains
Powerful lightning strikes killed 5 and hurt other 100 on Tatra Mountains in Poland. Emergency rescue helicopters and ambulances have brought the first patients to the hospital.
Lightning strikes killed 5 people, included two children, and hurt around 100. This happened in the nearby of Zakopane (Poland), on 22nd August. In the afternoon, a dramatic situation of emergency that can increase the death toll. Witnesses reported that the weather that morning was calm and clear. This weather changing took everyone by surprise and was ruthless.
The lightning strikes pummeled Poland's Giewont peak, which is a 1,894 meters (6,214 feet) high trekking destination, as well as other locations across the Tatras.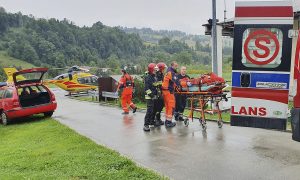 The emergency rescue helicopter service TOPR (Tatrzańskie Ochotnicze Pogotowie Ratunkowe) dispatched its helicopters in order to transfer the strikes' victims to the nearest hospital, immediately. On their Facebook page left the direct number for families hit by the lightning strikes.
Rescuers received the first emergency call on Giewont peak because a group pf people have been struck by lightning there. The emergency calls came also from other locations nearby, too.
TOPR rescuers said they believe the lightning probably hit some of the metal chains installed on Giewont peak to aid tourists in their climb. Among the injured people, there are ones in very serious conditions because of severe burns, head injuries, as they fell after the lightning strikes or were hit by falling rocks. He extended his sympathies to their relatives.