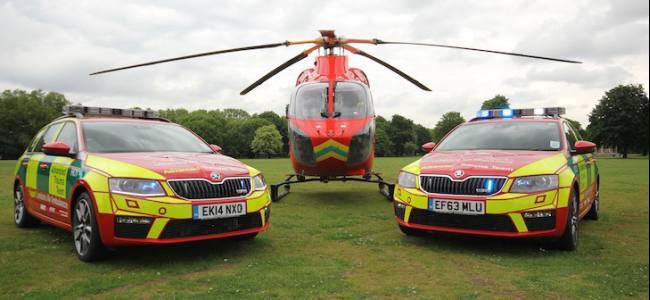 New Skoda for the London Air Ambulance
London Air Ambulance has unveiled its new fleet of ŠKODA Octavia vRS Estate rapid response cars. The cars operate at night, in adverse weather conditions or as back up in major incidents. Bringing uniformity to the London's Air Ambulance fleet, the new cars will now sport the same red livery as its iconic helicopter, and are also emblazoned with high visibility Battenberg strips required on emergency vehicles.
Innovation and development of the service has meant more equipment and medicine is now needed, which the roomier Octavia vRS Estate cars, with its 1740-litres of space, can accommodate. The charity has worked with ŠKODA for a number of years to ensure its rapid response vehicles meet the needs of the service.

The new high performance and low emission cars are fast, robust and are fitted with additional safety features for emergency blue light driving. London Air Ambulance's Physician Response Unit (PRU) also has a new ŠKODA Superb 4×4 Estate, which will act as a back up trauma car in adverse weather conditions – thanks to its intelligent all-wheel drive system and exceptional level of grip. Two new ŠKODA Yeti crossovers, which support our fundraising activities, have also had the makeover.