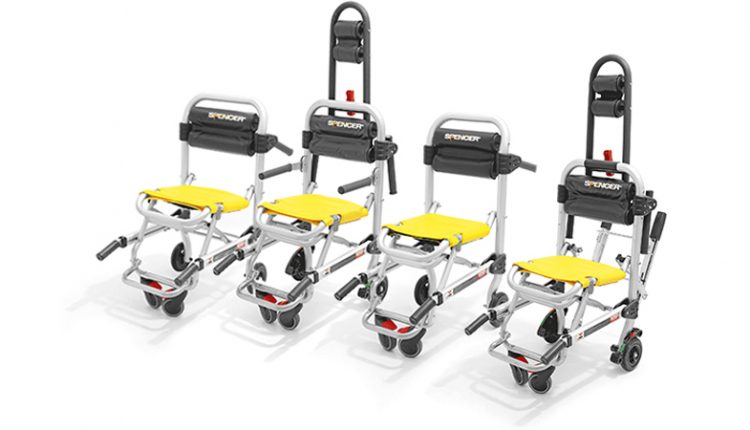 SPENCER 4BELL: the lightest transport chair ever. Discover why is it the most resistant one!
MILAN – Transport chairs are an extremely important equipment to transfer a patient to the ambulance
It is essential to always have one on board and it must respect three fundamental principles:
It must open suddenly and must be easy to use
It must be extremely light. It must not weight on the operator's rachis
It must be resistant and no need of much maintenance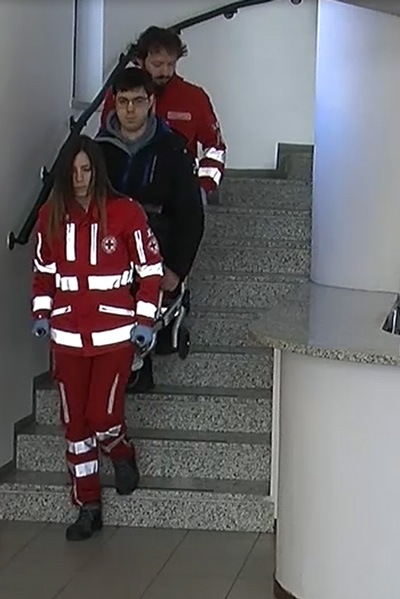 The market provides several models of transport chairs, but there is only one that combines the three concepts above with intuitive innovations for the operators, who daily work with these items. They must know how to control them, how to use them in the best way and replace them in a specific area.
This is why, all around the world, Spencer 4BELL represents the evolution of transport and evacuation concept. This Italian-made transport chair – 10G certified with its shaped wall support named 4Bell Max – has a simplified block system which blocks the chair into a safe position each time we need to open and use it.
With a hand or foot pressure, 4BELL can be closed and replaced on its specific support on the ambulance board.
However, the innovation that changed the transport chairs standards, resides in the constructive technology. 4BELL is no more realized – as original competitors' technology – with screws and bolts, but with strong self-locking elements, which guarantee a long-lasting endurance, with very few space clearances and casted aluminium tubes with less prominent parts.

This match turns into a safer and long-lasting device, with no need of many periodic revisions. In addition, any prominence of screws, bolts or elements which can snag at the patients' clothing, is removed, increasing comfort and reducing the risk of cross infections.
The 4BELL project by Spencer has implemented the range with 3 additional models, extremely appreciated by customers, in addition to the first one realized in 2015.
From the sliding brakes of CLASS model, they reached a new idea of gripping headrest in the comfort version, until the TOP of the range: STAIR model, which allows to slip 4BELL chair on stairs, assuring a quick evacuation without shakes or fatigue on the operator.
The importance of having a transport chair which can become an evacuation chair with a single movement is extremely important, especially in urban areas where transport chairs are used very often because of tight or less easy stairs or in absence of elevators. This is why 4BELL chair has been chosen for densely populated cities like United Arab Emirates, Thailand or Malaysia. Light, easy to carry and comfortable for the patient make this special chair extremely useful to transport a patient on ambulance board from high floors of skyscrapers of Jakarta, Kuala Lumpur or Abu Dhabi.
Do you want to know more about the 4BELL transport chair? Contact us!
[contact-form-7 404 "Not Found"]