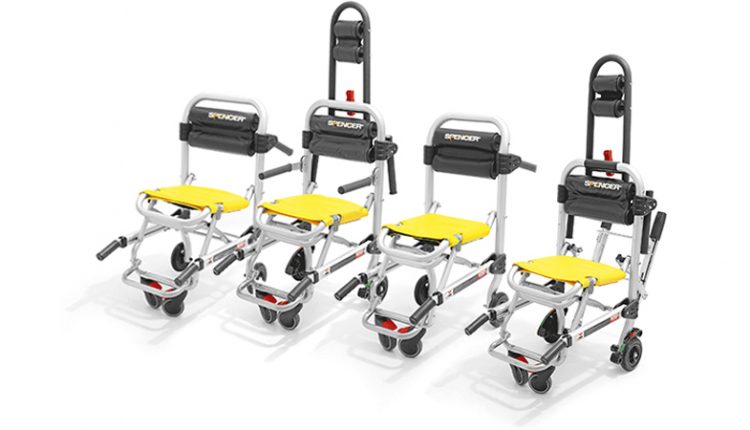 Ambulance chair, a lightweight and easy to handle solution from Spencer
Spencer 4BELL lightweight evacuation chair is the right answer for your needs in terms of safety, weight and simplicity
Transportation/evacuation chairs are an essential piece of kit to have on board an ambulance. These chairs should respect five basic principles, to be useful for any operator:
it must open immediately;
it must be easy to use;
it must be extremely light;
it must not hurt the operator's back;
it must be hard-wearing and require low maintenance.

There are a lot of transportation/evacuation chairs on the market, but there is only one that combines these five basic principles with an intuitive operation for the user and that's the Spencer 4BELL chair, which represents the evolution of transportation and evacuation. This 10G certified chair features a shaped wall support (4Bell Max) and simple locking system; with light hand or foot pressure, 4BELL will close and can be placed on its dedicated storage solution inside the ambulance.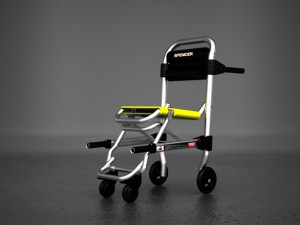 The innovation behind the 4BELL's success lies in the manufacturing technology. The chair is made using lightweight yet strong, self-locking elements, such as cast aluminium tubes, ensuring a safer and longer-lasting device. In addition, protruding screws or other elements, which might snag on the patients' clothing, are removed, increasing comfort and reducing the risk of cross infections.
Since the first chair was first created, in 2015, the 4BELL series has broadened the range with additional models: 4BELL Stair is equipped to descend steps. It is the ideal device for rapid evacuation and is especially useful in confined spaces, such as staircases; and 4BELL Comfort adds accessories that will improve patient comfort during transport: folding armrests increase both stability and a patient's sense of safety; while the removable headrest encourages a correct, comfortable and stable posture, which assists in limiting unnecessary movements made by the patient that could hamper or even make the emergency worker's job more dangerous.
It is becoming increasingly important to have a transportation chair that can transform into an evacuation chair with a single movement, especially in urban areas where transportation chairs are often used due to narrow staircases or in absence of lifts. This is why the 4BELL chair has been chosen for densely populated cities like the United Arab Emirates, Thailand and Malaysia.