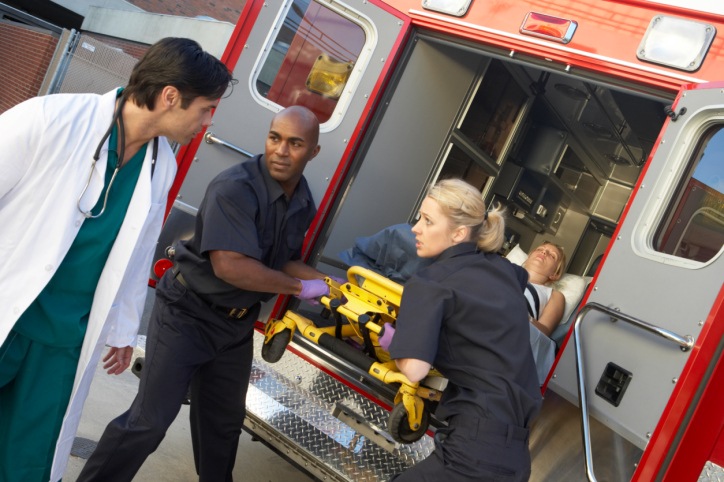 TOP 5 EMS job opportunities worldwide - New positions as paramedic and EMTs in Ireland, Canada, UK, India and Italy!
TOP 5 EMS job opportunities worldwide: EMS professionals, are you looking for a new job?
Every day EMS and rescue professional can find online new ideas for getting a better life, improving their jobs. But if you need some suggestions for keeping your skills in service for another kind of job, involved in the EMS or in the industrial business around the health sector, here we are!
Emergency Live will show you every week some of the most attractive position in Europe about EMS and rescue activities. Are you dreaming of operating as a paramedic Zermatt? Would you like to see every day the beautiful heritages of Rome driving an ambulance? (No, really, you don't know what it is driving an ambulance in Rome!)
Well, we show you the TOP 5 job position you can reach directly with our links!
LOCATION: IRELAND (EUROPE)

PARAMEDIC

Job Title: HBS05988 – Student Paramedic
Contract Type: Specific Purpose Contract
Closing date: 10/04/2019 12:00
Proposed Interview Date: The assessments are proposed to take place week commencing 29th April 2019 The interviews are proposed to take place week commencing 20th May 2019 *Please note these dates are provisional and are subject to change. There are various stages of candidate Testing/Assessment between the closing date and the above proposed dates for interview – for further information on the various stages of the recruitment process for this campaign – See "Additional Campaign Information"
Post Specific Related Information: Before you apply for this campaign, please read the job specification, application form and additional campaign information which can be found below.
Internal / External: External
County: National
Location: This recruitment campaign is being run to create a national panel for Student Paramedic. This panel will be used to fill training places for Student Paramedic in the HSE National Ambulance Service on the Paramedic Training Programme.
HSE Area: National
Category: Patient and Client Care
Informal Enquiries: Please ensure you download, save and read the Job Specification and Additional Campaign Information as well the Application Form. All of these documents are located at the bottom of this advertisement. We strongly recommend that you read the Job Specification and Additional Campaign Information in full before completing your application form. You should also save a copy of both documents for future reference. They contain full details on this campaign plus the answers to many queries such as: Am I eligible to apply? What happens to existing panels? Where are the posts? When are the interviews? How do I apply? What do I need to do? What do I need to consider now? What is the salary scale? If I apply what happens next? Take time to read through the various sections in both documents, which take you through the process from beginning to end.
Application Details: Completed applications can be sent via e-mail to applysupport@hse.ie or by post to Eilish Haran, HBS Recruit, Aras Slainte Chluainin, Manorhamilton, Co Leitrim
LOCATION: PARMA (ITALY)

EXECUTIVE ASSISTANT IN EMS EQUIPMENT COMPANY

We are looking for a responsible Executive Assistant to perform clerical tasks in a well-organised and timely way. You will need to act proactively and without guidance while understanding the needs and characteristics of people with whom you work with.

Main Responsibilities: Be the point of contact between the executives and company employees/clients and manage information flow, Manage executives' diaries and arrange their daily schedule (set up meetings, travel, speaking engagements), Oversee the performance of other clerical and administrative staff, Act as an office manager by keeping up with office supply inventory, Format information for internal and external communication – memos, emails, presentations, reports, Devise and maintain office filing system.

Requirements: Proven working experience as an executive assistant, Excellent MS Office knowledge and English proficiency, Outstanding organisational and time management skills, Acquainted with office management systems and procedures, Excellent verbal and written communications skills, Discretion and confidentiality.
LOCATION: ALBERTA (CANADA)

EMERGENCY MEDICAL RESPONDER

Your Opportunity:
As an Emergency Medical Responder (EMR), you will be a patient advocate who will effectively communicate and interact with community partners and allied healthcare professionals to ensure safe and proficient patient care and transportation. To fulfill your responsibilities you will safely operate emergency vehicles, respond to medical and traumatic emergencies and inter-facility transport requests while adhering to professional standards, medical control protocols, standard operating procedures, polices and directives. This posting will be used to fill multiple vacancies.

Description:
As an Emergency Medical Responder (EMR), you will transport ill or injured patients from scenes of emergency and/or between facilities. This includes operating ambulances or other modes of transportation; assessing emergency scenes and patients; providing simple treatments and completing required documentation including patient care reports. Alberta Health Services EMS requires the proof of the successful completion of the Functional Abilities Recruitment Evaluation (F.A.R.E.) test via the certificate provided by the Lifemark organization for all applicants external to AHS or internal to AHS, who do not already hold a clinical position within AHS EMS (VESST, Clinical Educator, EMR, PCP, ACP and Community Paramedic). Your F.A.R.E. test must be completed within 6 months of the date of your application. Alberta Health Services EMS may verify results with Lifemark to ensure the candidate has successfully completed the test. Please contact Lifemark at www.lifemark.ca/alberta-health-services to find more information on the F.A.R.E. test and how to book your evaluation. You will assist with ensuring that ambulances or other Emergency Medical Services (EMS) vehicles, such as transfer vans, are properly stocked and equipped.

Classification: Emergency Medical Respond 2088
Union: HSAA Facility PROF/TECH
Department: EDM Zone EMS Ambul Rover Pool
Primary Location: InterFacility Transport EMS ED
Multi-Site: Not Applicable
FTE: 0.00
Posting End Date: 05-APR-2019
Employee Class: Casual/Relief
Date Available: 15-APR-2019
Hours per Shift: 12
Length of Shift in weeks: Varied
Shifts per cycle: Varied
Shift Pattern: Days, Evenings, Nights, Weekends
Days Off: Other
Minimum Salary: $20.25
Maximum Salary: $23.67
Vehicle Requirement: Driver's License, Vehicle Provided
LOCATION: MAIDSTONE, KENT (UK)

EMERGENCY DEPARTMENT PRACTITIONER

Emergency Department Practitioner / Trainee Advanced Clinical Practitioner Band 7
Main areaEmergency MedicineGradeBand 7ContractPermanentHoursFull Time 37.5 hours per weekJob ref359-EMS7043SiteMaidstone Hospital and Tunbridge Wells at Pembury HospitalTownMaidstoneSalary£33,222 to £43,041 pa pro rataClosing10/04/2019 23:59

An exciting opportunity has arisen for an individual to join our friendly supportive team of Nurse and paramedic practitioners.

We are a two-hospital site trust, and the successful candidate will have the opportunity to work in the emergency departments and acute medical units on both sites, in a department trust that sees in excess of 170,000 patients per annum.

This role has been established within the department for almost two years and you will be joining a team of 8 other well established and enthusiastic tACP's or Emergency Department Practitioners, ensuring the safe, efficient and timely flow of patients through both Emergency departments (ED) and Ambulatory emergency medicine clinics (AEC). In addition to our strong nursing team, we have an excellent senior medical team that work closely with us in providing a patient-centred service.

The role of trainee ACP involves a programme of academic and work-placed based education, culminating in credentialing as an ACP with the royal college of emergency medicine (RCEM). You will be expected and supported to complete a minimum of a Postgraduate Diploma in advanced clinical practice and will be enrolled on the MSc Advanced Clinical Practitioner course at one of our partner universities, undertaking a range of clinically-focused modules in line with the requirements for the role, including independent prescribing (if not already held). You will be allocated and supported by an ED consultant mentor through your RCEM e-portfolio and be expected to attend study days including ALS, regular teaching sessions within the department and regional ACP events. Each practitioner will have a flexible personal development pathway enabling them to safely extend their scope of practice within the emergency department.

As either an experienced Nurse Practitioner or Paramedic Practitioner, with at least 2 years' experience in a band 6 post or above and advanced assessment skills, the post holder will be responsible for the assessment of care needs and developing, implementing and evaluating complex programmes of care within the acute and emergency care setting. The post holder will be viewed as an autonomous practitioner and will be fully responsible for managing their own caseload and assessing, treating, referring and discharging those patients in their care, with support where required.

We welcome applications from trainee ACPs who are already working towards credentialing with the RCEM and hold an NHS e-portfolio.

Following completion of RCEM Credentialing, the tACP would be able to apply for qualified ACP posts as they arise.

You will be expected to attend the Trust's Induction Programme for RNs, RMs and ODPs (which starts on the first day of employment). The programme is full-time (please contact the programme lead if this is problematic: nicola.henthorn@nhs.net), lasts for two weeks and will involve travelling to both Trust sites. The programme includes supernumerary shifts in the clinical area and classroom-based study days which run from 9am to 5pm.

Please note that appointment to this post will be subject to a satisfactory Disclosure & Barring Service Check at enhanced level. (Enhanced level now includes regulated checks against vulnerable adults and children)

As an inclusive employer, we are committed to having a diverse workforce and being a Stonewall Diversity Champion and Disability Confident Committed Employer we are working to create a workplace that enables all staff to reach their full potential. We, therefore, encourage applications from BME people, LGBT+ people and people with disabilities.

Closing date: Wednesday 10th April 2019

Interview date: Wednesday 17th April 2019
LOCATION: DEHLI (INDIA)

EMERGENCY MEDICAL TECHNICIAN

Job Description

-Assists in lifting & carrying patients to & from ambulance -Responsible for ensuring the availability of emergency drugs of all specialties and see that crash cart is always equipped with the necessary items.
Salary: Not Disclosed by Recruiter

Industry:Medical / Healthcare / Hospitals

Functional Area:Medical, Healthcare, R&D, Pharmaceuticals, Biotechnology

Role Category:Medical Professional

Role:Paramedic

Employment Type:Permanent Job, Full Time