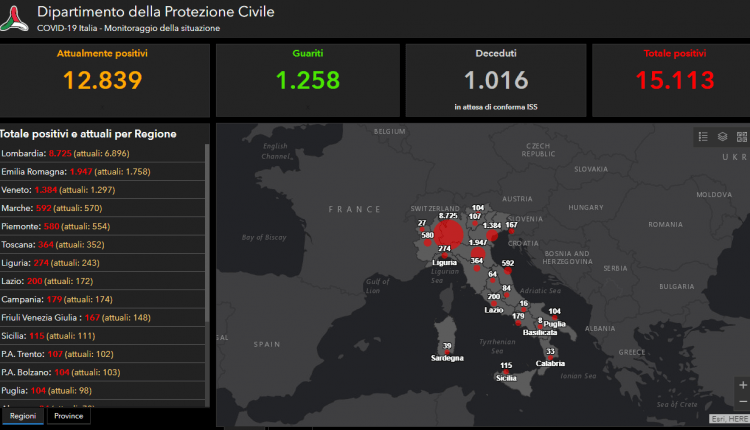 Coronavirus emergency, Milan like Wuhan: new facilities to face Covid-19 in record time
Italy is reacting. Everyone is facing Covid-19 emergency. The thank you goes to everyone who is taking care of health in all the hospitals of the country, especially in the North. Coronavirus emergency is serious but Italy is facing it with efforts and preparedness.
Coronavirus emergency, the situation in Lombardy:
Lombardy is the most affected region: 12,839 cases of positivity to Sars-Cov2 surveyed in the entire country, of which 8,725 are located in Lombardy.
And a sort of health levy starts from Milan: the decision of the last few hours, announced by the Regional Welfare Councilor Giulio Gallera, is to convert a building dedicated to events and shows, to a temporary hospital to take care of patients affected by coronavirus disease. Almost 600 beds to be used for intensive care.
The facility will be set up in six days. Hence the natural link with the response of the Chinese government in the Covid-19 epicenter, Wuhan.
Coronavirus, the answer passes from nurses, social workers and doctors
However, one of the longest-running problems concerns the medical-health personnel: a decade of cuts and "optimizations" has seriously jeopardized the possibility of responding adequately to the situation, and many Italian regions are preparing hiring plans or calls to retired nurses. or otherwise employed elsewhere.
In the new hospital building, 1,200 nurses will be spread over the various shifts, but a request for help has always been necessary for the ever attentive and ready Civil Protection, which in turn is organizing itself. The contribution of interns and new graduates is also essential.
Covid-19, the country's answer
To which, however, it will be necessary to provide an adequate number of masks and gowns, which is another problem on the table. Not only of the latter, actually: spontaneous strikes by workers are multiplying in Italian factories, who do not feel adequately protected in the performance of their work. A theme not too distant from what thousands of nurses and Oss live, real men and women from the trenches of this health war in full swing.
In the meantime, the coronavirus arrives in other parts of the world, and there are many nations that observe our country with a more attentive look and, in some cases, less than enough.
The situation is changing, everyone is working hard: all that remains is to observe whether this will lead to sufficient positive effects.