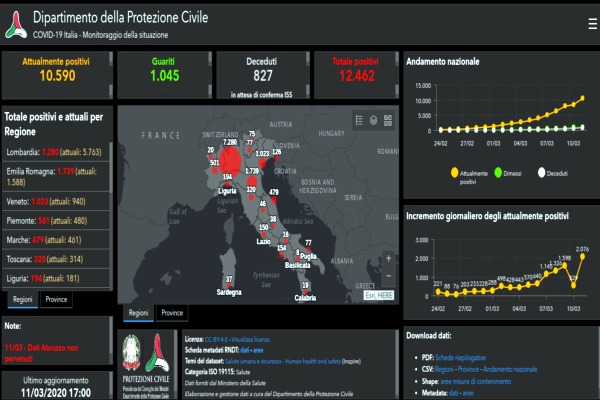 Coronavirus, Walter Ricciardi: "if we work together, we will probably get to summer with good results"
Calm chaos is what characterizes the national scenario in these weeks because of coronavirus. The planet is about to face one of the worst pandemics ever. Dr Walter Ricciandi declares this virus must not be underestimated.
Yesterday evening two strong positions, those that make the worst noise: on the one hand the director of WHO, the World Health Organization, announced the pandemic nature of the spread of coronavirus, on the other, the Italian Prime Minister, Giuseppe Conte issued its second SARS Co-2 decree.
Net of the economic repercussions (serious, thuds on the stock exchanges across the world), the planet is facing a health fallout whose borders are difficult to identify. And that is putting a strain on the world of rescuers and hospitals.
Coronavirus, the forecast of Dr Ricciardi
Three days ago we published an article in which several medical statisticians hypothesized the moment of the peak, identified by some around mid-April. A few hours ago Walter Ricciardi, member of the Italian representative member of WHO executive and consultant Committee, declared: "it is good that we begin to get used to a long war, the Sars that was less contagious ended around May-June. This is much more contagious than SARS and I have the impression that, if we all work together, we will have to arrive in the summer.
Compared to what happened in recent days, with movements of people from north to south Italy and crazy gatherings in the nightlife places, I think we will pay the consequences next week, when the incubation period of the virus ends. I am particularly worried about Rome and Naples, "explained Ricciardi again.
As for the increase in cases in Italy, Ricciardi continues, "we will have to wait at least two weeks to see a decrease: this week they will continue to increase; the next we hope to stabilize, but above all we will see other countries find themselves in the situation in which Italy was ". This is "a worldwide problem, so we must take all containment and mitigation actions together, otherwise the virus will continue to circulate".
The image attached to the article is taken from the Italian Civil Protection website and defines the picture at 2 pm on March 12, 2020.