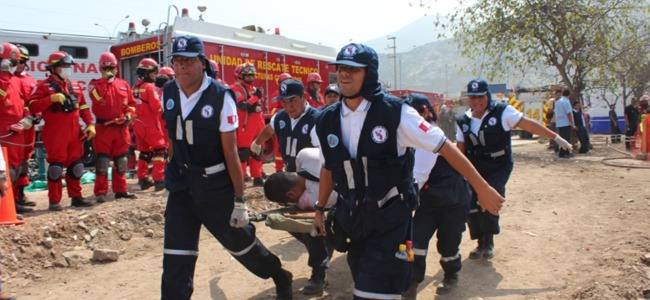 Ecuador Earthquake: Red Cross Red Crescent seeks 18.4m CHF to assist survivors
The International Federation of Red Cross and Red Crescent Societies (IFRC) today launched an 18.4 million Swiss franc (19 million US dollars) appeal to support the Ecuadorian Red Cross deliver assistance to an estimated 100,000 people in urgent need following the 7.8 magnitude earthquake that shook Ecuador's central coast on the evening of 16 April
According to the authorities, 525 people have died. More than 100 people remain unaccounted for, thousands have been injured and many more are displaced. An estimated 1.2 million people have been affected by this devastating quake.
The appeal will allow the Red Cross to continue providing critical, life-saving and recovery assistance for the next 12 months. This will include vital health and care services including psychosocial support, shelter and basic household items, water, sanitation and hygiene promotion, and livelihoods support.
Mr Walter Cotte, the IFRC Regional Director for the Americas, said: "Launching this appeal means the rest of the world can show its solidarity with Ecuador and help it recover from the largest earthquake it has seen in decades.
"This IFRC emergency appeal will address the urgent, short-term needs of the quake-affected families and communities. We will also support people into recovery beyond this emergency response period to help families and communities rebuild their lives and strengthen local resilience to cope with future shocks.
"Recovering and rebuilding from a disaster of this scale require long-term commitment and support.

"The Ecuadorian Red Cross response to this huge disaster has been rapid and commendable, and the IFRC will continue to support the society in working alongside the affected communities."
The Red Cross expects to provide health services support in the affected areas over a protracted period, as the local health facilities recover from the effects of the earthquake. The focus will also be on providing assistance to people to rebuild their houses and their livelihoods. The earthquake hit in the coastal region where the main economic activity is tourism. 
"Red Cross will support people as they rebuild livelihoods, local businesses and economies," Mr Cotte said.
The estimated cost in damages to Ecuador is at least 3 billion US dollars. The social and hidden costs that have yet to fully surface are expected to send this figure much higher.
Source: