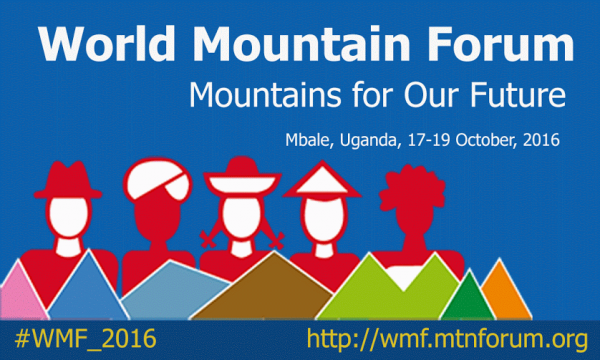 Uganda - World Mountain Forum 2016
MAIN ORGANIZER(S): Uganda – government
OTHER ORGANIZER(S): Albertine Rift Conservation Society
From 17th to 20th October 2016, Mbale will host the World Mountain Forum 2016
After the second WMF 2014 which took place in Cusco, Peru, the 2016 WMF presents an opportunity for mountain stakeholders to share lessons and experiences on past activities in sustainable mountain development (SMD) and to discuss challenges and opportunities in the future referring to the recommendations from the 2014 WMF and conclusions of on-going international policy processes including climate change negotiation and new Sustainable Development Goals (SDGs).
The outcomes of this forum are expected to inform the implementation of the SDGs and guide interventions in mountain areas at local, national and international levels. Furthermore, the WMF 2016 will offer an opportunity for mountain countries to discuss how to effectively implement the decisions from climate change negotiations and the post-2015 agenda for SMD.

The forum will be held under the general theme "Mountains for our future" and four sub-themes will be discussed namely: (i) Mountains and climate change, (ii) Mountains communities and livelihoods, (iii) Mountain ecosystem services, and (iv) Sustainable mountain agriculture.
Disaster risk reduction will also be discussed at the WMF: The recent earthquake in Nepal and the ensued landslides across the country which claimed countless lives and damaged millions worth of property attest to the mountains' fragility to natural disasters and the predicted increased extreme weather-related events such as floods, landslides and storms are going to put mountains' communities and their livelihoods under an ever increasing pressure.
Fortunately, as also demonstrated by the joint disaster relief response brought by different stakeholders in the wake of Nepal's event, cross-sectoral collaboration and adapted early warning systems can greatly enhance resilience of mountain communities in the face of increasing natural disasters including climate change induced weather extremes as well as other predicted impacts of climate change in mountains. This theme will take into consideration the involvement of local population and integration of local knowledge in national strategies to maintain critical services of mountain ecosystems which form the basis of the ecosystem-based adaptation, an approach much adapted for these mountains environments. Discussions will also explore options for disaster risk reduction in mountains areas in relation to climate induced hazards affecting these areas as well as look at needed international response particularly in the context of the implementation of UNFCCC COP21 outcomes which is promising to bring the world together against this most difficult challenge humanity has had to face ever.
You will find all information you need on the event official website