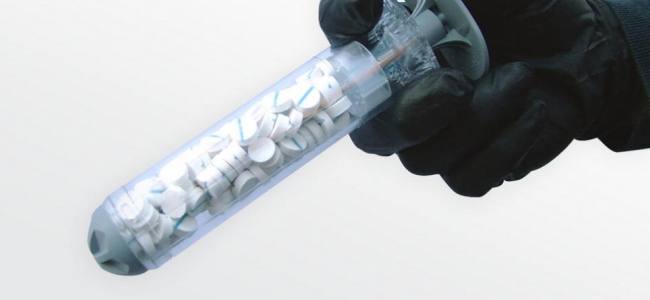 XStat hemostatic device, one of the top 10 best invetion in 2014
The XStat is a first-in-kind hemostatic device for the treatment of gunshot and shrapnel wounds on the battlefield. XStat works by injecting a group of small, rapidly-expanding sponges into a wound cavity using a syringe-like applicator. Each sponge contains an x-ray detectable marker. In the wound, the sponges expand and swell to fill the wound cavity within 20 seconds of contact with blood. This creates a temporary barrier to blood flow and provides hemostatic pressure. CNN and Popular Science Magazine have both named XStat as one of the top 10 best inventions in 2014.
"XSTAT is a novel device that can be rapidly deployed, providing fast-acting hemorrhage control to stabilize a wounded patient for transport," said Christy Foreman, director of the Office of Device Evaluation at the FDA's Center for Devices and Radiological Health. "This will be an important new treatment option for our nation's military to treat injured soldiers who may not be in close proximity to a medical facility."
XStat is a hemostatic device for the control of bleeding from junctional wounds in the groin or axilla not amenable to tourniquet application in adults and adolescents. XStat™ is a temporary device for use up to four (4) hours until surgical care is acquired. XStat™ is intended for use in the battlefield.

The XStat syringe is placed directly into a wound. The scores of sponges – the size of little pills – are treated with chitosan, which is the perfect remedy for clotting blood. Right after the syringe is inserted the small sponges expand and immediately plugs up a wound and stops the bleeding in under 20 seconds.
XStat is NOT indicated for use in: the thorax; the pleural cavity; the mediastinum; the abdomen; the retroperitoneal space; the sacral space above the inguinal ligament; or tissues above the clavicle.
READ ALSO: ZipLine, a new solution for suture and surgical operation