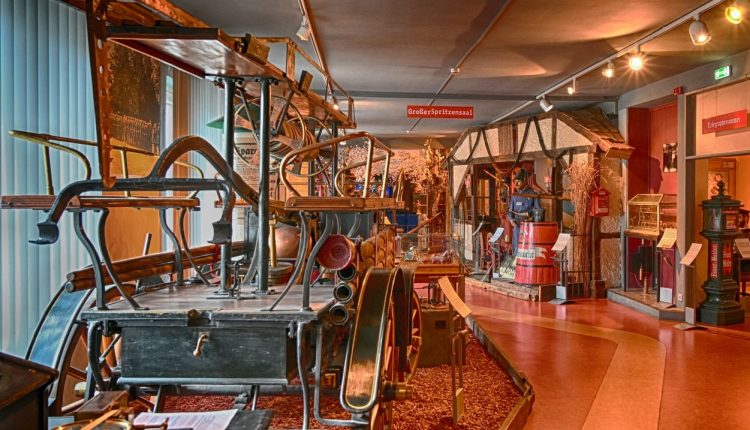 Emergency Museum / Germany, the Berlin Feuerwerhmuseum
The Berlin Feuerwerhmuseum is located in the city of Tegel in the Reinickendorf neighborhood. It is recognizable thanks to an imposing MBB Bo 105 model rescue helicopter displayed in front of the building that attracts the attention of all passers-by and it is also thanks to this that the museum enjoys a constant flow of visitors

Feuerwehrmuseum Berlin, the evolution of fire brigade equipment over the last 300 years
The Feuerwehrmuseum in Berlin displays various faithful reproductions of operations of the Fire Brigade in full size and is divided into different exhibition areas that show the uniforms, helmets and the evolution of technical equipment that in the last 300 years of history of the Fire Brigade of the German capital and its surroundings has contributed to the fight against wildfires and to the preservation of the community.
The museum opened in 1983 following a historical exhibition of educational material by the Berlin Feuerwehr, held inside the Charlottenburg main fire station. Initially, only various period fire-fighting equipment and artifacts from the wildfire sites were exhibited.
All the photographic documentation, videos and numerous life-size finds are exposed in the approximately 800 m² exhibition.
To date, this does not include the 20 historic fire engines from major manufacturers such as Daimler-Benz, MAN and Magirus-Deutz, which cannot currently be shown inside the Feuerwerhmuseum due to limited space.
SETTING UP SPECIAL VEHICLES FOR FIREFIGHTERS: DISCOVER THE PROSPEED STAND AT EMERGENCY EXPO
Themed rooms in the Feuerwehrmuseum Berlin
There are several exhibition areas and each one of these is separated by historical period or thematic area: there is for example a room dedicated to hand pumps and horse-drawn pumps, a room on methods of intervention in the event of chemical emergencies, a room on the diver department, but also a space dedicated to the methods of intervention in road accidents, the work of the Fire Brigade in the Second World War and finally a room in which a control room of the Fire Brigade is perfectly replicated and in which can be personally experienced by the visitor all the methods of intervention.
The last room also displays the historical fire alarms and the alarm reception systems, properly installed and fully functional.

Fire brigade demonstrations at the Feuerwerhmuseum in Berlin
During the demonstrations, the visitor can witness what happens from the moment a fire alarm is activated to the moment the Fire Brigade intervenes.

The equipment previously used for the recruitment tests of the Berlin Feuerwehr agents is set up in an exhibition hall.
After a first medical examination, the candidates were in fact subjected to various physical and psychological tests aimed at assessing their resistance and aptitude for the profession.
At the end of the museum tour, visitors can test themselves with some of these tests to see if they have what it takes to become a true professional firefighter.
Read Also:
Emergency Museum, Australia: The Museum Of Fire Of Penrith
France: The Musée Du Patrimoine Du Sapeur-Pompier Of Beaune
Source:
Berliner-feuerwher.de; Wikipedia; Ytti.de; Berlin.de;
Link:
https://www.berliner-feuerwehr.de/ueber-uns/feuerwehrmuseum-berlin/
https://de.wikipedia.org/wiki/Feuerwehrmuseum_Berlin
https://www.ytti.de/feuerwehr-museum-berlin-tegel-kinder-1471/
https://www.berlin.de/museum/3109383-2926344-feuerwehrmuseum-berlin.html