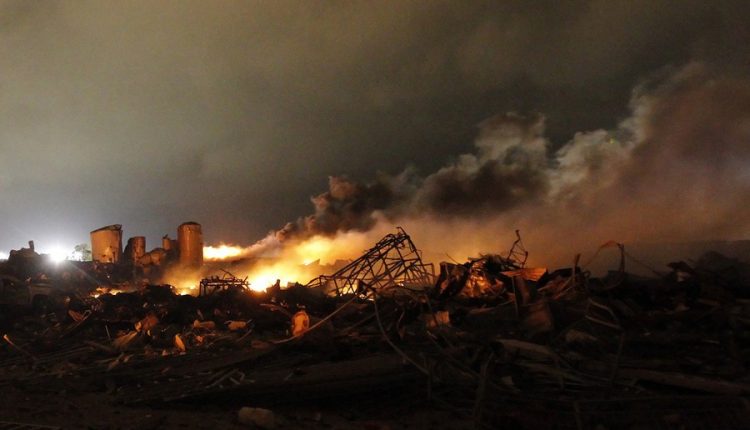 Like Star Wars in Texas: explosion of a fertilizer factory caused 14 deaths and 150 wounded
On a quiet spring night in the typical Texan town of West the scene was like the explosion of a bomb. 2,800 inhabitants, a few miles north of Waco.
A detonation, that was how the inhabitants of West described the sudden bang that ripped through the sky with a toxic cloud that gave rise to a full-scale evacuation. In the hours following the explosion, the 2,800 inhabitants of West had to leave their homes for safer accommodation. The rescue operation was immediately set into motion bringing together all the necessary know-how to bring a very complex situation under control.
The rescue workers

Working together, paramedics, fire crews and police officers in an attempt to contain a whole series of problems mainly concerning the high number of missing persons. Many volunteers made a huge contribution to the rescue operation, arriving in West from every large town in Texas. However, the most difficult task appears to have been for the fire crews, whose attention at this time was focussed on putting out the last few fires still smouldering amongst the remains of West Fertilizer, in a highly dangerous area due to the huge quantities of toxic and inflammable material. The fire workers completely kitted out with anti-gas masks and protective jackets, ventured into the midst of the devastation in an attempt to contain several new fires.
The effects of the explosion
The effects of the explosion were devastating: the authorities focussed most of their attention on the 25 tonnes of ammonium nitrate, a caustic substance capable of corroding human tissue; that was inside the factory. The explosion even registered a tremor equal to that of an earthquake, with a magnitude of 2.2.
The causes of the explosion are still unknown; however, arson appears to have been excluded as a possible cause.